When it comes to creating so-called
smart cities
, analytics are playing a bigger role in the process. This is particularly true of big data and its close cousin, "open data," which looks to gather information from sensors, as well as people, and make that data available to software developers who then create new products for citizens.
The increasing use of big and open data in the push to create smart cities is evident in a July 29 report from market research firm IHS. It predicts that the total number of smart cities will quadruple over the next 12 years. This means there will be 88 smart cities -- as defined by IHS by 2025 -- as opposed to just 21 in 2013.
This smart-city boom also represents a lot of money, specifically more than $12 billion in investments by 2025, compared with just over a $1 billion last year, according to the report, entitled "Smart Cities: Business Models, Technologies and Existing Projects."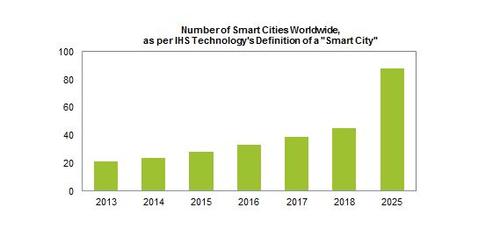 There's lot of data in the report, including what many cities are doing to enhance a wide range of services that they offer their citizens, such as changes to mass transportation, physical infrastructure, public safety, and energy and sustainability. However, in an email exchange with Future Cities, IHS analyst Lisa Arrowsmith wrote that analytics, big and open data, and the information that people are willing to provide may have the most influence on how urban places are developing.
Arrowsmith wrote that once this data is collected, it's opened up to developers who create the applications that we use, making the whole process more democratic:
Big data, and also 'open data', are both huge topics within the smart city. In order to promote smart city initiatives and foster innovation, many projects are adopting an open data approach. This is where the data gathered from the deployment of a variety of sensors throughout a city is freely available to individuals such as software or application developers. Implementing open-data initiatives permits more innovation than might otherwise be possible. Software or application developers are able to design services centered on the data gathered from the smart city project and provide these to citizens. This may improve the effect of the smart city project as citizens can be provided with services that may not have been defined by the municipality or their partner companies prior to deployment.
If this holds true, then that means two of the biggest technological trends of the last five years -- analytics, including big-data analytics, and the Internet of Things, represented by sensors, smart meters, and even our smartphones -- are converging to reshape our urban environment drastically.
In Europe, this is already underway.
Continue reading part two.
Related posts: