When you think of the Internet of Things (IoT) in the home, itís easy to joke about talking washing machines and the fridge reminding you the milk has gone bad.
Who needs to hear that after a long day at the office
? But in the US, at least, many people are getting comfortable with the concept of the smart home.
In fact, US households are expected to spend $17.9 billion on smart home systems by the end of 2014. These 21 million households that are buying IoT-ready technology represent about 40% of the global market, according to a July 16 report from Strategy Analytics.
This is just the tip of a smart home and IoT market being fueled by investment from some of biggest names in technology -- Apple, AT&T, Google, Comcast, and Samsung, as well as non-tech businesses that are looking to add smart devices to the home and muscle in on this trend, including Home Depot, Loweís, and even Staples.
By 2018, the global smart home market is expected to realize revenues of $100 billion, according to the report "2014 Smart Home Systems and Services Forecast: Global Total."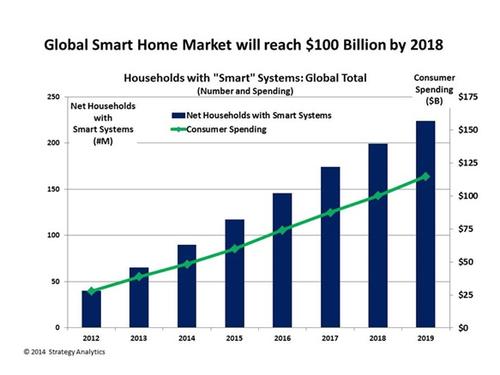 The United States is ahead of the global curve right now, thanks to an increasing use of monitored security systems in the home, Bill Ablondi, director of smart home strategies for Strategic Analytics, writes in an email to Future Cities. About 20% of all American households are shelling out about $35 a month for these monitored security services, or MSOs. That equals about $10 billion annually, with more coming in the next few years.
Along with high-end audio/visual systems, MSOs are helping push America to the top of the smart home heap. While impressive, other countries are starting to catch up with the United States, specifically China -- a huge potential market for IoT technology -- as well as Western European countries such as Germany.
No matter where in the world a home is located, he believes the next big thing in smart homes will be an elegant and fully integrated model combining applications and hardware that can potentially connect a number of items, including the family car. He notes:
Clever, elegantly designed point solutions will evolve quickly into integrated platforms designed to orchestrate all of our devices in harmony. I will have different needs and hence devices and applications than you, but want to benefit from enhancements to the platform. Smart appliances are definitely coming, but the replacement cycle on these is long, and I donít believe people will swap out a washing machine just [to] get tweets when the load is done. One big area not mentioned is marrying the connected car to the connected home.
The overall potential of the IoT market is not in doubt. IDC predicts that by 2020, the global potential of the IoT will reach about $7.1 trillion in revenue. However, most of the talk has focused on the wearables market, with Samsung and others trying to make inroads in the smartwatch space and Appleís high-anticipated but factually elusive iWatch expected to be the game changer. Another report, this one by ABI Research, suggested about 90 million of these devices will ship worldwide by yearís end -- Apple or no Apple.
However, the Strategic Analytics report is bullish on the home and notes that high-end construction designers are already incorporating smart systems and IoT devices into their plans, with more mass market consumption on the way. The biggest leaps have been in the commercial building market, where developers are offering their customers return on investment by promising savings costs. These options are slowly making their way into the average home.
Ablondi adds:
Letís say at this point builders and developers are becoming successful in selling electronic upgrades to people. Yes, a few are demanding these technologies, but more often buyers walk into a model home tricked out with smart home devices and they say Ö yeah put that in, too.
Security, data, and monetization
While the smart home market is on the upswing, thereís not been a lot of thought about what IoT and smart sensors record. The data they collect is still very much a
green field when it comes to security
. Who
controls this data is of major importance
. Itís an issue thatís gotten scant play, especially as smart thermostats and other devices continue to grow in popularity.
One solution is giving the homeowner greater say over how the data is used. From there, he sees a way to monetize the data and help offset some of the costs associated with building an IoT-centric world, since we have gotten used to sharing a lot of our lives online. He explains:
Weíll see some interesting business models develop in the market. "Here, Iíll give this thermostat to you for free, if I can use the data to provide targeted ads to you." This can all get spooky, but there are billions of people "living out loud" on Facebook and other social media sites and services. Bottom line: look for some clever business models to develop.
Still, itís one thing to have your data used by the company to help offset the cost, but itís another when that company starts selling data to a third party. That fact presents a series of thorny problems. Criticism of Facebook selling data is just the most recent example.
When it comes to the Internet of Things, smart homes, and sensors, how do you see these things changing the way we think of building homes and communities? What security concerns are you watching as we build out this type of infrastructure? Let us know in the comments section below.
Related posts: