Keep watching the skies? Who owns the space above the cityscape, asks Julien Happich.
Following the European Commission's recent announcement that it would harmonize legislation regarding unmanned drones, EE Times Europe caught up with Yannick Levy, Parrot's vice president of Corporate Business Development, who keeps a close eye on both professional and hobbyist drones.
There have been several lawsuits against hobbyist drone flyers, including a recent one in France where an 18-year-old boy from Nancy filmed a video of his hometown using a GoPro camera mounted on to a small drone.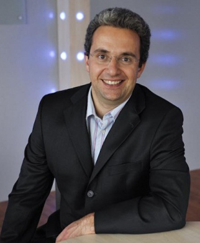 Parrot VP Yannick Levy
Nans Thomas was eventually fined €400 ($545) for violating the DGAC's sky rules (Direction Générale de l'Aviation Civile) and endangering the lives of others, a fairly light sentence if you consider the maximum sentence could have been one year of imprisonment and a €15,000 fine (violating flying safety rules bears a maximum fine of €75,000, but this charge was not taken into account).
Continue reading here.