The connected smart city will have a big appetite for chips, and Qualcomm is bringing them to the plate, reports Rick Merrit -- even if its new CEO doesn't like the IoT tag.
Qualcomm is developing a "portfolio" of chips for the Internet of Things, said the company's new chief executive at a keynote here. At the same event the head of IBM's Watson group talked about market and technology directions the group is pursing.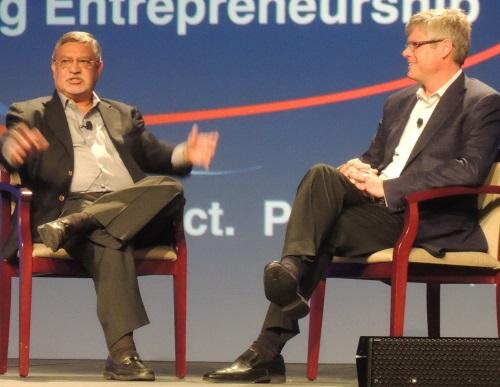 Former AT&T Wireless CEO Mohan Gyani (left) makes a point at the TIE Con keynote with Qualcomm's CEO Steve Mollenkopf.
As "an extension of our business… we are building a portfolio of products and technologies" for the IoT, said Steve Mollenkopf, Qualcomm's CEO, although he chafed at the term IoT. "It means different things to different people, and it means nothing to a lot of people," he said in at the annual TIE Con event here.
He defined IoT as the new "edge of the network… [that has] a lot of surface area [and]… is a very wide open space [that] looks different than the phone space."
Continue reading here.