Writing about young people who are moving back to cities has become a
cottage industry
. And while studies show there's a lot of hard data to back up the trend stories, most media coverage of the topic
has focused on
the upwardly mobile and well educated.
On Thursday night, a crowd of about 100 gathered to demonstrate that young people are ready to engage with cities in another way -- as policy experts, dedicated to bringing about a greater sense of livability, social cohesion, and community for all city residents.
The event was the Policy Expo of the Roosevelt Institute Campus Network's Summer Academy. The Campus Network, an organization that trains young people nationwide on how to write and advocate for progressive policies, brought 30 students to New York for a nine-week program built around the following question: "How can we ensure that development projects in NYC drive economic stability and social inclusion, thereby creating greater opportunity for poor communities and communities of color that reside in rapidly changing neighborhoods?"
Thursday night was when the students, broken up into six teams, presented their ideas. (Disclosure: I worked for the Network in 2010 and 2011, when it was based in D.C.)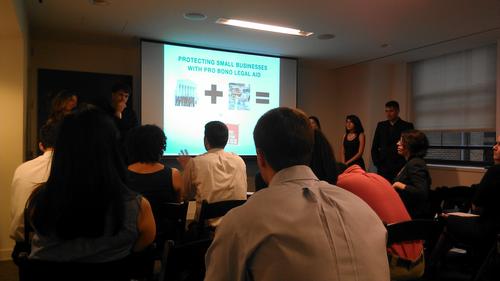 The students weren't just pitching to their peers. A panel of guests evaluated each team's presentation: two staffers from the Center for Social Inclusion; a budget analyst at the city's Office of Management and Budget; and Brittny Saunders, the deputy counsel to New York City Mayor Bill de Blasio. Kicking off the event with some remarks, Saunders claimed that the city was "on the brink of some really powerful structural and demographic changes" -- she noted that by 2050 the entire country would be majority-minority, which NYC already is -- and said these changes mean the city needs "people who can grapple with complex issues."
Each team's presentation included a problem, policy prescription, and target neighborhood. The first group focused on preventing obesity-related hospital visits. Obesity-related problems kill 5,800 New Yorkers annually, they said, and cost employers $73 billion a year nationwide. Taking Far Rockaway, a low-income community of color, as their target neighborhood, they suggested a multi-pronged approach that included increased public-health funding, a standardized community response focused on preventative care, and enlisting help from the area's only hospital, which is severely overburdened by ER visits.
Several teams chose the South Bronx as their target neighborhood, and presented a variety of dynamic proposals to improve the neighborhood's inequities. One team, whose presentation was titled "Increasing access to charter schools for English language learners," pointed out that 41% of all South Bronx students are English language learners (ELLs), but that these students are drastically underserved by the neighborhood's charter schools, which often have greater freedom to pick their enrollees than traditional public schools.
The team suggested that state regulators take a more proactive approach by setting concrete enrollment targets in each district, and encouraging charter schools to bring in that number of ELL students every year.
Another innovative plan for the South Bronx involved pro bono legal aid for small businesses. Small businesses are an integral part of the South Bronx neighborhood economy, but according to the presentation, 74% of business owners referred to their rent problems as "out of control." To "close the legal justice access gap," in the team's own words, this plan would shepherd specific legal aid towards South Bronx residents, who pay very high rent despite generally poor upkeep by landlords.
The team focused its plan on legal services and not rent offsets, the students said, because helping tenants understand New York's intricate rent laws was a more proactive approach than simply saving them money.
Yet another proposal took a forward-looking approach to eminent domain, focusing on the blighted neighborhood of Willets Point, Queens. New York approved a plan to rezone the neighborhood in 2012. However, it would force the city to displace an estimated 225 small businesses in the area, which form the heart of the local economy.
The Roosevelt team suggested that the City Council could allocate money to help Willets Point business owners get re-started nearby. These government-backed loans would be coupled with financial-literacy programs for the evicted business owners, in order to supplement the immediate aid with a preventative approach to future problems.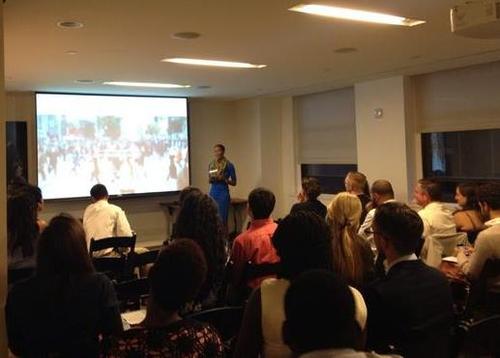 The evening ended with a winner: The panelists agreed the obesity-prevention plan for Far Rockaway was the policy proposal that did the best job involving stakeholders from community groups to local businesses to city government.
That proposal will get help from the Center for Social Inclusion, one of Roosevelt's partner organizations. But at the reception after the event, the panelists continued talking animatedly with many of the Summer Academy students in the room, about every conceivable aspect of urban policy.
So don't be surprised if you see several of these proposals come to life soon -- in New York and across the country.
Related posts: