Last weekend, the Municipal Art Society of New York curated more than 100 guided walks around the city in memory of the urbanist Jane Jacobs. Here's the second of our two reports.
Call it "eyes on the docks."
After all, Jane Jacobs, the urbanist commemorated by these walks, celebrated tight-knit neighborhoods and "eyes on the street."
I joined a tour focused on waterfront development in Red Hook, Brooklyn, which has traditionally been a major center of the city's docking and shipbuilding industry -- and was badly damaged by Hurricane Sandy in 2012. The question of what to do with New York's waterfront has been a pressing one for most of the city's history, and post-Hurricane Sandy, questions of how to best use the shoreline are more pressing than ever.
We met our tour guide, the architect Angela Khermouch, at Pier 11 in Manhattan, right at the end of Wall Street. That pier, Angela explained, served as a useful symbol for the NYC waterfront's trajectory. Its first uses were commercial, but in the 1980s and 1990s, there was talk of building a Frank Gehry-designed Guggenheim Museum branch there. After that plan was buried by post-9/11 cost concerns, the pier's uses became mostly recreational and transit-related.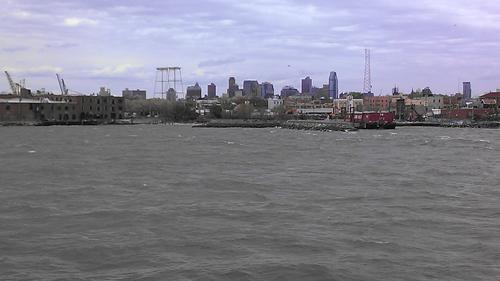 Today, it's the departure point for the water taxi ride we took to the Red Hook outpost of Ikea. The designers of the ferry terminal, in a nod to New York's history as an international hub, built it to look like an airplane hangar.
For most of the city's history, Red Hook was used as an industrial and shipbuilding area, given its location right on New York Harbor and at the mouth of the Gowanus Canal. After World War II, waterfront commerce largely moved to New Jersey, where there was more dock space available. Robert Moses's decision to construct the Brooklyn-Queens Expressway through the heart of the neighborhood further isolated it geographically from the rest of Brooklyn. It was several decades before the city government started to think more systematically about how to take advantage of such valuable waterfront space.
Our first stop in Red Hook was Ikea. Although this branch of the Swedish furniture chain didn't officially open until 2008, Khermouch explained that placing big-box stores along the waterfront was an idea that originated during Rudy Giuliani's administration. While huge, hulking stores on the docks do not fit the vision of Jane Jacobs-style urbanism, which emphasizes mixed-use development and a variety of commercial uses, they represented the first steps toward reclaiming Red Hook for everyday use.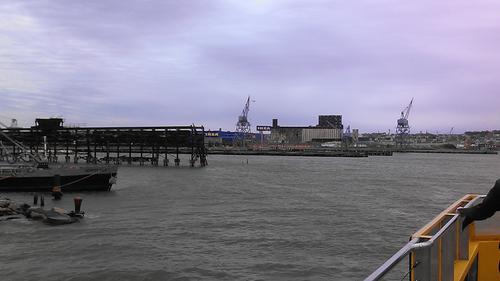 Building brand new stores on the waterfront was Ikea's approach, but this was not as popular among the Red Hook community as the model that the grocery chain Fairway Market used for its Brooklyn location -- the retrofitting and reuse of old facilities. Red Hook's plentiful abandoned warehouse spaces ended up serving the needs of a large supermarket like Fairway perfectly.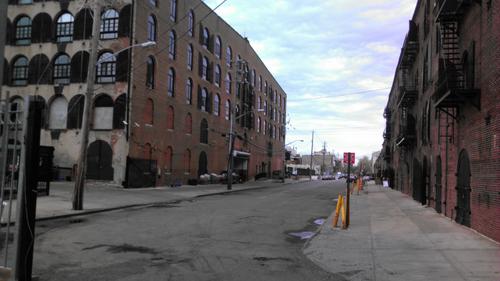 The supermarket was able to use the first floor of an old warehouse for its commercial space, and use adjacent warehouses as places to store food waiting to be brought to the floor.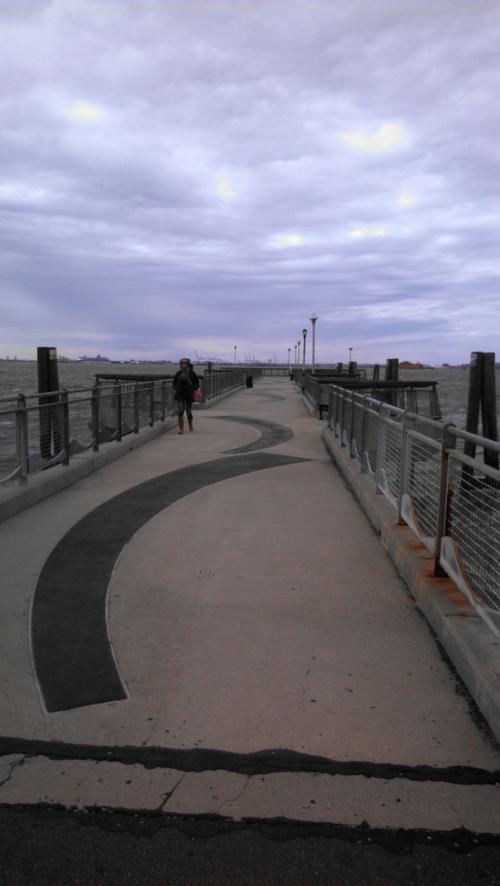 Our final stop was the Louis Valentino Pier, a park that provides space for recreation and stunning views of Manhattan. Khermouch posed the question that's been hanging over Red Hook since Hurricane Sandy. To make the best use of our waterfront space, she asked, should we try to build something that can stop the water, like a sea wall? Or should we accept that sea levels are going to rise, and focus instead on creating a "soft edge" that adapts to this new reality?
One solution, proposed by groups such as the Billion Oyster Project, is to re-plant oyster beds in New York Harbor, which could improve water quality and guard against flooding. The ultimate goal for city policymakers should be to treat waterfront as a public space. Uses such as the Valentino Pier are a good start -- they provide places for families to spend time outdoors.
But ironically, despite its location on New York Harbor, there is no place to launch a boat from the Valentino Pier.
If cities like New York are to make the most of their waterfronts, they must come up with solutions that combine versatility, sustainability, economic vibrancy, and ample opportunities for neighborhood camaraderie.
Related posts: