It may be the largest, smoggiest, most congested city in the Western Hemisphere, but Mexico City -- of all places -- may have a thing or two to teach
gringos
about how to make bus transit better than ever.
It's not that we Americans disagree about the need to upgrade our transportation infrastructure. But while subways and light-rail systems get people around the fastest, they're also the priciest options. Bus transit is a far more cost-effective alternative, but it's slower -- and we've learned that drivers in cities from New York to Nashville will fight to stop any project that encroaches on private vehicles' space.
Bus Rapid Transit (BRT), in which buses are given dedicated lanes, is an increasingly popular option. And Mexico City has already found a way to make BRT work like a charm. The results speak for themselves -- from its beginnings of a single line and 80 buses in 2005, the system has grown to a fleet of 367 buses and over 850,000 boardings per day.
This is an illustrative example of making BRT work because Mexico City, as I learned when I visited several weeks ago, contains neighborhoods of almost every imaginable urban prototype. The city's historic center dates back to Spanish colonization, with cobblestoned streets and old buildings reminiscent of Madrid. Slightly farther out from the core are 19th century and early 20th century neighborhoods with wide Parisian boulevards and elegant plazas. And beyond that, huge swaths of the city resemble Los Angeles, with endless low-rise sprawl and traffic-choked highways.
Creating a system to serve all of these types of neighborhoods isn't easy.
I stayed near Avenida de los Insurgentes, home to the city's first and most widely used BRT line. The system, called Metrobus, is primarily successful because of how strictly it guards bus-only lanes. In New York, for example, bus lanes are either the lane farthest or second-farthest to the right. Private vehicles are permitted to enter the bus lanes to make a right turn, slowing down the speed of buses that then must wait for cars to yield to pedestrians. Metrobus's major innovation is to put the bus lane in the leftmost lane of the street, which essentially insulates the bus from any broader traffic problems. It answers only to the traffic lights.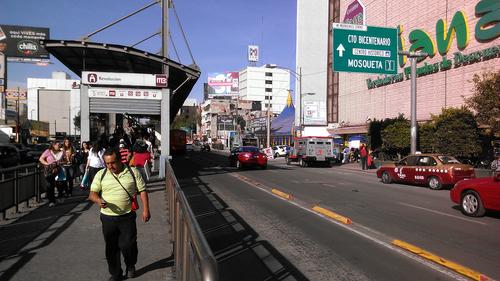 The above photo also shows, in addition to the strategic placement of the bus lane, how it is physically set off from the other lanes on the street. When bus-only lanes exist in New York, for example, they are generally set aside by a painted line, making it easy for cars to cross into the space if they so choose. The Metrobus system solves this problem by making it significantly harder for private vehicles to cross over.
And finally, the Metrobus system features sheltered stations built in the median of the street, allowing passengers to wait for the bus in an enclosed space. To be fair, simply crossing the street to get to the median is often a pretty scary prospect in Mexico City, but once passengers arrive they will find a space that's well-lit, patrolled by transit police, and protected from the elements.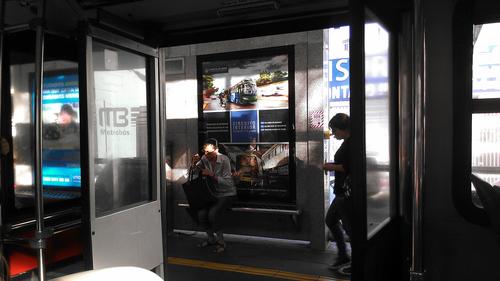 The effect of all this, on the Insurgentes line, is a bus that effectively runs like a train. Riders pay in advance of boarding, wait for the bus in protected spaces, and don't have to worry that their bus will be delayed by traffic. (To get to the city center from my friend's apartment near Coyoacán took me about 35 minutes on Metrobus versus 25 on the city's subway system.)