Doug Henschen looks at data-driven traffic optimization in San Diego.
Data variety, data complexity, and sheer data volume have all come together in a data-driven transit optimization project underway in San Diego.
The San Diego Metropolitan Transit System (MTS) is suffering from a classic case of information overload. The agency has disparate data sources, including a smart-card payment system, GPS-based automatic vehicle location devices on buses, automatic passenger counters on trolleys, and extensive route and schedule information formatted in the general transit feed specification (GTFS) format developed by Google in 2006.
"We look at all these data sources independently, and they help us improve performance, but we haven't been able to make correlations among the various data sources," said Sharon Cooney, MTS chief of staff, in an interview with InformationWeek.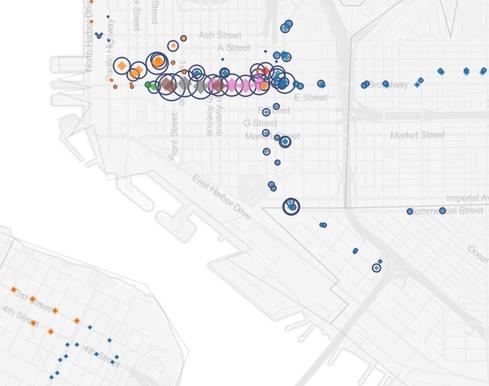 San Diego MTS and Urban Insights are mapping transfer activity (shown by size of rings) and types and levels of services offered by stop (shown by shapes, sizes, and color) to determine whether service levels are appropriate.
Late last year, MTS turned to Urban Insights, a big-data services unit of Cubic Transportation Systems (the agency's supplier of smart-card and revenue management software), to make better use of its data. The problem encountered in San Diego -- disparate data sources -- is all too common in transportation projects, so Urban Insights has developed a cloud-based analytics modeling platform built on Hadoop.
Continue reading here.