Many elements make up the future city, but the technical infrastructure is likely to be based on something resembling the Internet of Things. In this in-depth analysis, Chris Murphy looks at innovations still needed -- in sensor and network design and security -- to make the IoT a stable reality.
To see the problems in building the so-called Internet of Things, look at the trackside switches in what the railroad industry calls "dark territory." These switches are important -- if one is in the wrong position, a train could go off on a sidetrack spur at normal track speed and derail. But these areas are called dark territory because they're lightly used stretches of track in remote areas, where there are no automated signals, and probably no power lines and cellular links. Train operators must visually check that each switch is in the right position.
Union Pacific CIO Lynden Tennison would love to have a monitor that does nothing more than tell dispatchers and engineers which position a switch out in dark territory is in. For such a simple task, "it seems like it ought to be a $100 device, just to me and you living in the consumer tech world," Tennison says. But the sensor would need a power source and a communication link, and it would need to be hardened and weather-resistant. His goal: to get the cost to buy and implement each switch down below $10,000.
Tennison gets a lot of sales calls from analytics software vendors, each promising to help him sort out the data that the Internet of Things can generate for Union Pacific, the largest railroad company in the US. But Tennison's bigger problem is still having to do too much manual data collection. "I keep telling them that if you'll solve my sensor problem and get me a lot of cheap sensors out there that can collect a lot more information for me, I'll buy your analytics engine."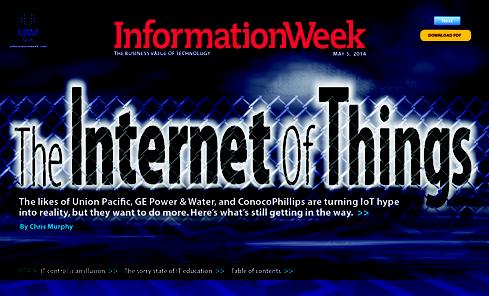 Continue reading here.