Shopping in the city can mean supporting small businesses -- the "mom and pop" stores surviving among the big chains -- but often enough it means standing in line. Again, and again, and again. Here's Laurianne McLaughin's story about how one retailer is using technology to cut check-out lines to the bare minimum.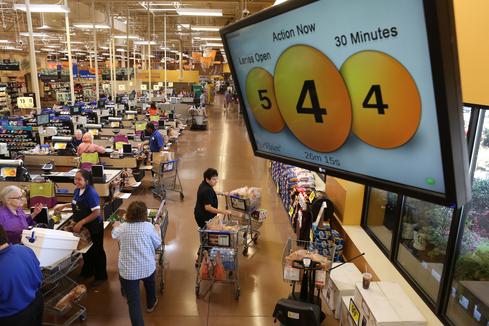 Kroger's QueVision system includes a display that keeps customers and
store staff informed about how checkout lines are moving.
What bugs people the most about grocery shopping? It's not the in-store Muzak or the occasional squished loaf of bread. It's the dreaded wait at the checkout line, according to Kroger customer surveys, prompting the supermarket chain to test a variety of technical solutions over the years. Kroger thinks it finally has the right mix of technology: QueVision, which combines infrared sensors over store doors and cash registers, predictive analytics, and real-time data feeds from point-of-sale systems.
From the moment customers walk through the door of a Kroger store, the QueVision technology works toward one goal: ensuring that they never have more than one person ahead of them in the checkout line. The technology, now deployed at more than 2,300 Kroger stores across 31 states, has cut the average wait time from more than four minutes to less than 30 seconds, the company says.
Continue reading here.