London Mayor Boris Johnson recently mandated that only zero-emissions taxis would be allowed to operate in the city, starting in January 2018. This move would see all of London's 22,000 black cabs being zero-emissions capable by 2033, assuming the current 15-year taxi age limit is retained.
The mayor's office and Transport for London (TfL) have realised it's about time this kind of standard was set citywide. They estimate that taxis alone produce 34% of the most harmful pollutants (PM10s) from road emissions in central London. This owes to the relatively outdated powertrain technology in the black cabs of today -- variants from the London Taxi Co., Mercedes, and Metrocabs -- all of which use high-emission diesel engines, and none of which deliver more than 30 miles per gallon of fuel. With the advanced, emission-reducing powertrain technologies being implemented in several new vehicles globally, TfL is confident it's time to act, and it's implementing this legislation as part of its new Ultra Low Emission Zone for central London.
Several manufacturers are already developing vehicles to meet the mayor's challenging deadline. London Taxi Co., Fraser Nash/Ecotive, and Karsan are all developing plug-in hybrid electric vehicles (commonly referred to as range extenders or eREVs) with combustion engines that extend their all-electric range. Nissan and Karsan are manufacturing full electric taxis to be launched well before the 2018 deadline. Mercedes announced it will develop zero-emissions capable cabs. No details were given on which type, but Mercedes is expected to use the same BlueTEC plug-in hybrid technology used in its new S Class executive vehicle.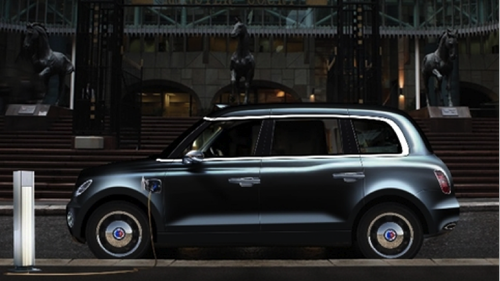 The implications of the mayor's announcement are vast. London's population will benefit from greatly improved air quality (a London Councils study estimated that air pollution causes 4,300 premature deaths a year from respiratory illnesses). In addition, there's the reduced noise from these cabs, the improved safety features being implemented (Karsan has a patented system to warn cyclists/pedestrians when a door is about to open), and the economic benefits that will accrue from the supply chain of the vehicles. What's more, we'll get to see several more iconic cabs designed specifically with London in mind. The mayor has encouraged all manufacturers to come prepared with a "Bowler hat British" design to ensure the legacy of the iconic London taxis we see on the streets today.
However, it's not all positive news. Several drivers and industry experts are concerned by the price and maintenance of the vehicles, the lack of charging infrastructure, and the range of the electric cabs in particular. Extensive work is being undertaken to allay these fears and ensure the 2018 target is met. Incentives for the purchase of such vehicles may be retained in the UK (currently set to £5,000 per vehicle on electric models), but the manufacturers are benchmarking their retail prices of the zero-emissions capable vehicles with today's models. A new charging station operator (IER) has announced plans to operate the Source London charging point network and to increase the 1,400 charging points to 6,000 by 2018. Lastly, based on data from TfL's taxi diaries (and my personal interviews with 50 drivers), the average daily mileage of a taxi driver is 110 miles per day. However, owing to the vast differences in daily driver mileage, it's accepted that range anxiety for full electric vehicles will be removed only in a phased approach. That's why range extenders are the natural first step toward full electric London taxis.
London has come one step closer to zero-emissions urban mobility. We expect several cities to follow this lead to reduce pollution. According to research by Frost & Sullivan (where I am employed), there are more than 2 million taxis in the top 100 cities globally. With legislation requiring a relatively quick supply of vehicles or improved replacement cycles, many manufacturers are likely to join the zero-emissions taxi race.
Related posts:
— Martyn Briggs, Programme Manager, Mobility, Automotive & Transportation, Frost & Sullivan