Last week Barcelona hosted the
TurisTIC forum
, a two-day conference focusing on technology for the tourism sector.
During the Tourism IT Tendencies session on the first day, several talks focused on IoT solutions such as dedicated sensors, beacons, NFC, and location-aware devices to help hotels, tourist operators, and the public sector improve visitor experience, and gain more business.
One of the most interesting presentations focused on the use of iBeacons, and how this new technology (based on not-so-new Bluetooth LE) can help engage visitors and shoppers. The static beacons, the size of a small cookie and getting smaller, can detect compatible devices and trigger different actions on nearby iOS phones and tablets.
Several examples and potential applications were discussed:
A Dutch theme park is using iBeacons to provide visitors with information: Fluwel's Tulpenland (Tulip Land) specializes in displaying Dutch tulips. As a visitor approaches an iBeacon in the park, relevant information about nearby tulips is displayed on their phones.
Macy's is testing location-specific sensors in its Herald Square, New York, and Union Square, San Francisco stores to inform customers about discounts, and relevant product information. The stores now carry transmitters that send discounts and recommendations to participating iPhone users when they pass nearby.
The city of Barcelona is expanding the use of NFC and QR codes to provide information to visitors, and has placed sensors in different areas of the city to map noise pollution, an issue of high concern to residents as the number of tourists increases each year.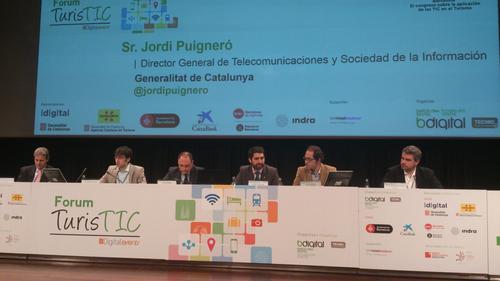 The use of sensors, WiFi snooping, and beacons, to track tourists and engage with them, raises the typical privacy issues. Two years ago I wrote about the experiments conducted by two shopping malls in the US during the holiday season. They began tracking the movements of shoppers by monitoring the signals from their cellphones.
Using a Path Intelligence system, the malls assigned a unique ID to each cellphone entering the premises and followed it during the visit. The malls posted small notices on the message boards at the entrances informing visitors of the tracking system. However, the only way to opt out of being tracked was to disconnect the cell phone. After Sen. Charles Schumer, D-N.Y., got involved and started to question it, the malls suspended the system.
Now, if you want to use any kind of tracking technology you have to persuade visitors to download the app and agree to location tracking, plus receiving push messages. This will only happen if you convince visitors and customers that you are providing them with additional value.
There are different rules in different markets, and many European countries have stricter laws than in the US about collecting and storing private information, including location tracking.
The IoT and wireless technologies can provide value to cities, stores, hotels, and tourist businesses, but they need to be open and transparent, and explain to people what they are doing, gaining their trust and providing value in return. Otherwise, the technology could backfire.
Related posts: