Since the introduction of NFC services on mobile phones, a long list of applications has been appearing on the market. One of the most sought after uses smartphones to enhance the use of transportation services, especially public transport in the city.
During the Mobile World Congress last month, I had the opportunity to discuss the state of mobile NFC with Pedro Martínez, NXP's business development manager for mobile transactions, who told me that at the end of 2013 there were more than 500 million mobile devices equipped with NFC technology--350 million of them smartphones.
NFC and QR Codes are widely used now as boarding passes for airplanes, paperless tickets for trains and passenger ships, and as ticketless access to shows, concerts, and sporting events.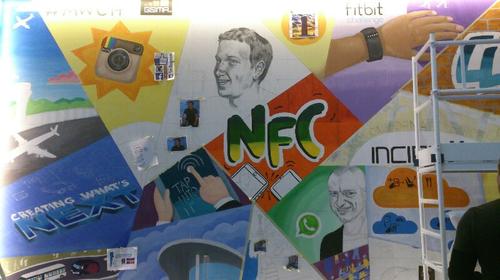 NXP's Mifare platform for smartcards and public transport is now in use in more than 650 cities worldwide, enabling citizens to pay for their journeys quickly. Together with Sony's Felica, popular in Asia, more than 8 billion NFC smartcards are used in the world today.
As I've written in the past, I believe that smartphones and public transport are the best solutions to streamlining user experience by speeding up payment and reducing operating costs for transit authorities. Every time I visit a city that uses contactless smartcards for public transport I have a much better experience. Paying for buses, metro and light rail is always quicker and more convenient. Now I'm glad to see NFC ticketing coming to the United States.
Washington and Chicago are planning to implement Mobile NFC ticketing, access, and payment systems for their public transportation systems this year. Washington already uses NFC Smartcards to access its Metro system, the kind used in many cities based on NXP's Mifare secure standard. Now Washington will be spending US$184 million to upgrade its existing system to accept NFC Smartphones, EMV contactless credit cards, and federal government ID cards.
Many other cities around the world already have mobile NFC payment systems for public transport, but this is the first major introduction of this technology in the US. As I mentioned before, in a 2013 study by Accenture three out of four transit users in major cities say electronic ticketing would make travel easier, and 90% of Barcelona's public transport users say they would use a ticketless solutions if a remote purchase system is available. A total of 78% of transit users expect to be buying tickets using a mobile device this year.
Washington has the advantage of having already installed contactless payment infrastructure for smartcards that is compatible with mobile NFC technology. The biggest investment will be updating its software to handle the additional payment methods. The system will be built using the Accenture Fare Management Solution and will use open architecture that supports a range of payment options, including the flexibility to adapt to future payment technologies.
The investment will be recovered quickly. The new system will allow commuters to quickly recharge their virtual cards using their phones, thus skipping lines at machines and saving the transit authority the burden of collecting cash.
The introduction of Host Card Emulation (HCE), recently adopted on Google's Android 4.4 Kitkat OS, will add more possibilities for NFC mobile transactions, as transit operators will be able to simulate the smartcard in the cloud. This will free transit authorities from relying on mobile operators to certify the smartcards on the mobile SIM card.
The new systems will also provide insight into passenger preferences, routes most used, service issues, etc., helping authorities optimize resources, increase capacity at peak times, and plan better bus routes. "We are pleased to [...] bring our customers the same level of technology that we've all seen in the airlines and banking industries for payments," said Carol Kissal, deputy general manager of administration and CFO at Washington Metro. "Over the next several years, customers will see new stainless steel faregates with clamshell-like barriers and large, bright, intuitive displays to ease their entries and exits. We believe this new system will enhance the Metro experience for commuters and visitors alike."