Two small cities in the Basque region of Spain are getting smarter.
Hondarribia and Irun, located on the French border in the Basque region of Bajo Bidasoa (population: about 78,000), are going all out to manage city services, including (but not limited to) water consumption and recycling, rubbish collection and processing, public lighting, and smart parking.
In order to accomplish all this, the region created a consortium of different companies, all from the Basque country, to develop and provide the necessary technologies. The result is SmartLand Bajo Bidasoa, a project that encompasses six technology companies "united by the ambitious and exciting challenge of creating Smart Cities."
These six companies provide a range of different technologies to manage water resources, lighting, city communications, and public participation. The tools include the following:
32,000 sensors that collect real-time water consumption information
WiMAX communications for all systems
A geographical information system (GIS)
RFID sticker tags for garbage bags
Intelligent lampposts
A vertical solution for water management, waste collection, and street cleaning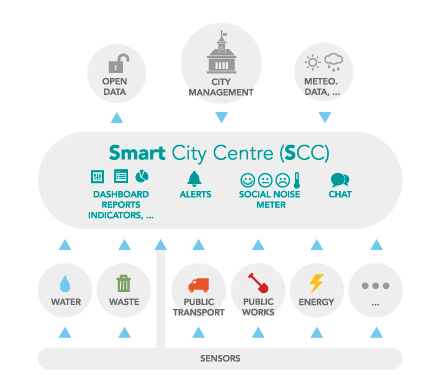 Through the sensor system, for example, city leaders can see the correlation between water consumption and waste generation; monitor and predict the effect of bad weather on incidents within the area; or visualize the amount of resources used across water, waste management, transportation, energy, and public works departments.
Further, incorporating RFID technology on rubbish bags allows city officials to not only track the amount of trash deposited in municipal containers, but also analyze the behaviour of citizens, how much they recycle, and what times they deposit their trash. This way, the city can optimize pickup times, manage recycled waste, and educate citizens about best-practices for trash disposal.
To analyze the massive amount of data collection, the towns asked IBM to build and install the Smart City Center, using its Intelligent Operations Center software to analyze, share, and distribute data.
"The possibility of analyzing large amounts of data through new technology opens up enormous possibilities for better public sector management," said the mayor of Irun, Jose Antonio Santano, in a statement. "We live in an era of global crisis and it is precisely at this time when we need to sharpen our ingenuity to better know how to apply talent and technology for the benefit of our citizens."
The towns are already seeing the payoff of installing high-tech: Water leaks decreased by 70%; water supply pumping costs decreased by 14%; and unnecessary water treatment decreased by 40% as a result of the ability to see and manage water systems in real-time.
I believe projects like this are necessary both for the small towns that are getting the advantage of high tech, and for the companies themselves that are essentially creating small living labs out of these towns -- a useful way to demonstrate their wares in a real world setting.
The advantage of using small towns, as opposed to larger, established cities, to implement "smart" projects, is that towns are flexible. It is possible for them to quickly implement new solutions and serve as case studies. While cities such as Barcelona neither want nor can afford more pilot programs, they could watch innovative solutions taking place in these towns and adapt them later on.
— Pablo Valerio, International Business & IT Consultant
Related posts: