In a lesson for cities everywhere, Barcelona is implementing a key element of an urban efficiency plan it announced two years ago.
On March 1, 2012, the mayor of Barcelona and the CEO of Cisco announced the City Protocol, an agreement to launch a number of strategic initiatives aimed at advancing the city's objective of being a global reference model for sustainable urban development. The protocol itself remains nebulous, but one of the aims -- to create self-sufficient city blocks -- is taking shape.
The plan calls for creating blocks where consumers' energy needs are analyzed and compared with available alternatives in order to improve efficiencies. Another aim of the plan is to develop an energy use map for all of Barcelona based on these newly renovated blocks.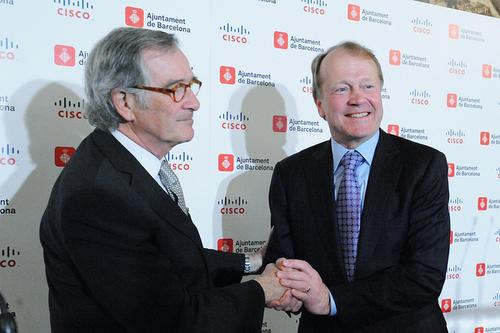 To kickstart the program, the city government allocated two empty blocks in two different districts, Nou Barris and Sant Martí. The second one is situated within the 22@Barcelona technology district, a 200-hectare planned "city within a city" focused on bringing together companies, research facilities, training centers, and other elements of a technology hub.
Each block has approximately 12,000 square meters of land, on which the city wants developers to renovate and build apartments, shops, and offices that are self-sufficient in their energy needs. The construction and renovations will include mixed-use buildings with roofs covered with solar panels, neighborhood shared-heating systems, water recycling, and the use of electric vehicles for services.
Below is a diagram of a proposed block. See the caption for translation of the Catalan labels.
In order to encourage people to buy electric vehicles, the blocks will have a shared parking facility that will come with charging units but will set aside no less than 20% of its spaces for electric vehicles.
To develop the program, the Barcelona city government, together with its technology partners, is taking the following actions:
Working with local and international technology and research institutions to ensure the project uses the latest solutions for self-sufficient buildings
Helping construction companies and other service providers develop new financial models with the power companies to help users pay for the long-term investment in buildings renovated for energy efficiency
Serving as interface with the public administrations of Catalunya and Spain to promote legislation and public grants and to define new models of building and urban network design and management
Helping construction professionals get the training and qualifications to continue designing and building self-sufficient urban spaces
These projects can't be realized without citizens' involvement. That's why Barcelona has sought the input of neighbors, shop owners, and local associations to develop its plan. Projects on both city blocks that conform to the plan are now under construction. When finished, they could serve as models for projects in Barcelona and other cities.
— Pablo Valerio, International Business & IT Consultant
Related posts: