How does a city handle one of the world's biggest technology conferences?
Barcelona will answer that question this week, as it hosts the Mobile World Congress (MWC), which starts today and promises to be the largest mobile conference and trade show of its kind ever held.
Designated the Mobile World Capital by the mobile industry group GSMA until 2018, Barcelona has prepared thoughtfully for the event, reinforcing public transportation, tightening security, and hosting special activities around the city for the 77,000+ delegates and Barcelona residents alike. Here are some of the notable measures the city has taken to encourage success:
All MWC attendees receive a four-day special public transportation pass giving them access to all transit services (metro, buses, trams, and regional trains). In addition, special buses shuttle people between the airport and fairgrounds, and the major hotels.

Most taxis in Barcelona have been equipped with contactless payment terminals that accept both standard and contactless credit cards, plus mobile NFC payments. La Caixa, the largest Catalonian bank, has launched mobile payment wallets with the three main mobile operators in Spain: Movistar, Orange, and Vodafone.
To ensure all delegates enjoy fast, unlimited, and unbroken connectivity, the Fira de Barcelona, the organization responsible setting up this event, has deployed one of the largest WiFi networks ever installed anywhere, with more than 1,200 connection points, 14 kilometers (8.7 miles) of fiber optic cable, and 50 (31 miles) kilometers of wired network, covering the 240,000 square meters (2.6 million square feet) fairgrounds, with a total capacity of 10,000 megabits per second.
During MWC this week as well as the following week, visitors to Barcelona can enjoy the Mobile City Tour, an augmented reality experience in Passeig de Gracia (the main shopping street), which will guide them to special features and services in historic buildings and landmark shops.

For example, visitors of Casa Batlló can see the original furniture designed by Catalan architect Antoni Gaudì when snapping pictures inside the building (currently most of the rooms are empty). And the dragon that crowns the building's facade awakens from a hundred year sleep and swoops down to surprise people taking pictures of the building.
While the MWC disrupts the normal pace of the city, the economic impact is enormous. Barcelona Mayor Xavier Trias confirmed last week that the city council expects the event to generate €360 million ($496 million) for the city economy and create more than 7,000 jobs during the event.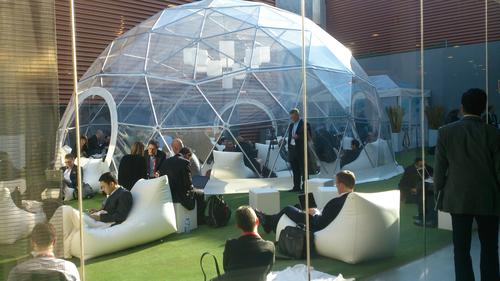 Incidentally, today everyone is waiting for Facebook's Mark Zuckerberg to deliver the keynote address -- and possibly to explain why Facebook has agreed to pay $19 billion for a messaging app.
I'm sitting next to the conference hall and they are preparing for long lines. Just after that, at the other side of town, Samsung will unveil their latest member of the smartphone family, the Galaxy S5.
It is going to be an interesting week.
Related posts:
— Pablo Valerio, International Business & IT Consultant