The "smart cities" movement is consolidating everywhere in the world, and countries previously considered developing are joining the club.
This was evident during the recent Smart City Expo World Congress in Barcelona, which garnered a record attendance both to the exhibition and congress -- and with some cities awarded for leadership in innovation and smart solutions to their unique problems.
The Smart City Expo World Congress Awards judges decided to give the Best Smart City prize to Rio de Janeiro, recognizing the city's efforts to improve services, transit, security, and quality of living for its citizens.
In presenting the award, Pedro Paulo Carvalho Teixeira, the Chefe da Casa Civil de Rio de Janeiro, said [translation provided by the congress organization]:
It is a huge honor for us to win the World Smart City Award 2013, especially here in Barcelona, a city that sets an example in this area. Rio is an amazing city, but full of daily challenges. It is really significant that we have won competing against developed cities such as Berlin and Copenhagen. This means that Latin American cities have good experiences to share with the world.
I had the opportunity to interview Pedro Paulo Carvalho Teixeira before the awards, and he shared with me some of the initiatives that he thinks make Rio a worthy recipient of the award. He insisted on people's participation as the key to realize the smart cities concept:
People want to participate and be informed; they want their opinions heard. We [Rio's government] are not thinking about asking people about every decision, they elected us to make decisions, but we want them to feel involved, and that the city is sharing with total transparency what we do.
To encourage civic involvement, Rio uses Google hangouts to broadcast live discussions between the city's mayor with a panel of experts on policy and events.
The Rio official also explained the city's plans to revolutionize public transport with BRT (Bus Rapid Transit). The city is taking down the biggest overpass in the city center in dramatic fashion to recover the space for people to use:
There is a change in cities' priorities. Previously, cars and roads were the main focus of investments within cities. Now, people, and living, are more important, we want people to be able to walk and enjoy the city without their cars.

We decided to blow up the overpass to send a message. We could have just dismantled it by pieces, but we wanted people to understand the change, that the city belongs to the people... In 40 years, Rio built 40 km of Metro, in six years, we'll make 155 km of BRT. BRT is important for cities where speed is important [and where] we can't build Metro lines due to budget and time constraints.
Rio's BRT system is expected to increase the proportion of city's population using public transport from the current 16% to 60% by 2016, the year of Rio's Olympic Games. As noted in the comment above, the BRT, which is already running on the "TransOeste" corridor, will command 155 kilometers of dedicated lanes for articulated buses. Some of those lanes will occupy the center of the road, separated from the rest. Elevated platforms will serve as dedicated stops for loading and unloading passengers.
The city of Rio currently has over 300 km of bike lanes, which city officials expect to grow to 480 km by 2016. The current bike-sharing program, "Bike Rio," will eventually be expanded to cover the entire city.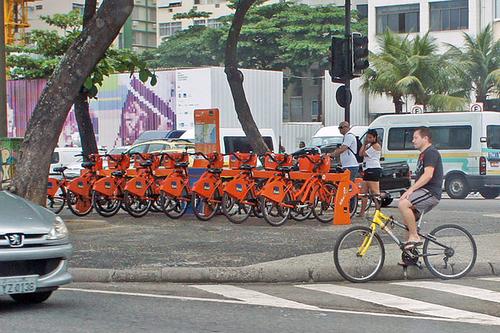 Rio also wants to use the latest technology for other initiatives such as regulated parking, air quality, rubbish disposal, and flooding warning.
Retaining its status among the world's top smart cities may be tough. Just a few months ago, the city was criticized for a series of setbacks that seemed to put its civic preparations for the Olympics in disarray. Still, city officials are determined to press on in the direction for which they've been recognized. At very least, their efforts look promising.
Related posts:
— Pablo Valerio, International Business & IT Consultant