2013 may be remembered as the year we began the battle against midcentury modern buildings in the name of energy efficiency. I have feared this for years.
Applying "inefficient" to an entire era of buildings can be dangerous. Hence the controversy over Michael Bloomberg's Midtown East rezoning plan, which would allow New York to replace aging commercial buildings with office towers in East Midtown.
The plan has received derision for promoting density over neighborhood, new over old, and bigger buildings without transit or street improvements. What it also does is encourage demolition of existing buildings. But does one green approach, density, supersede another green approach -- keeping what's already here?
That's essentially the conclusion offered in recent report from Terrapin Bright Green, "Midcentury (Un)Modern: An Environmental Analysis of the 1958-73 Manhattan Office Building." Basing its assessment of midcentury buildings on a study of 675 Third Avenue (a 1966 Emery Roth building), the report concludes that "significant energy savings are locked up in a segment of obsolete office buildings, which are not only inefficient but also have lost commercial value in the last fifty years."
Now, I'm no statistician, but judging an entire era of buildings by studying just one doesn't seem very scientific. Rather, I'd offer the following three buildings as examples that support the opposite conclusion.
Lever House
Designed by Skidmore, Owings & Merrill's Gordon Bunshaft and Natalie de Blois, Lever House opened on Park Avenue in 1952. It is one of the most iconic International-style glass-box skyscrapers in the world and as such was made a local NYC landmark in 1982 and listed in the National Register of Historic Places in 1983. Sadly, by the mid-1990s, water had seeped behind the stainless steel mullions, causing the carbon steel within the glazing pockets to rust and expand. Only 1 percent of the original glass remained, leaving the facade a patchwork of mismatched glass. SOM was asked back in 1998 to restore the curtain wall. In essence a new, more efficient, and weatherized curtain wall was built to match the original in appearance. Completed in 2001, it was probably the first significant curtain wall restoration undertaken (and still looks glorious).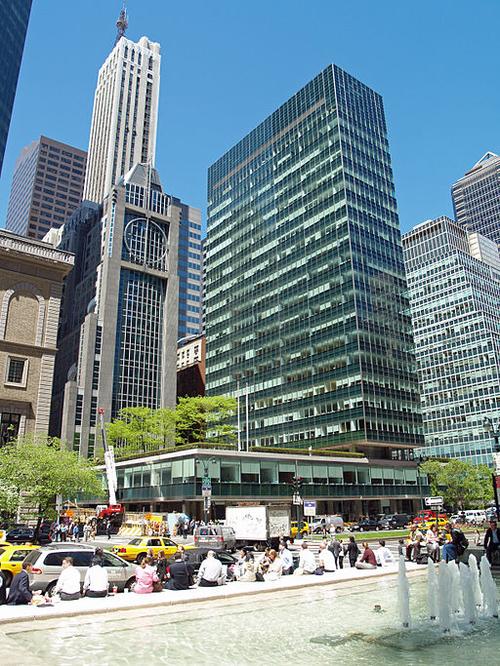 Manufacturers Hanover Trust
Located at 510 Fifth Avenue, and opened in 1954, this is a luminous jewel of a curtain wall building, also designed by SOM. After years of battles between preservationists and the new owners, a rehabilitation of the newly landmarked building was undertaken to convert it for retail use. While several interior features were altered to incorporate the retail uses, the original curtain wall was completely preserved.
Through email, SOM Senior Design Architect Frank Mahan told me:
SOM preserved the original polished plate glass panels comprising the groundbreaking façade... However, many of the original black glass spandrel panels had been replaced over time with poorly matched metal panels. As part of the renovation, SOM worked closely with the New York Landmarks Preservation Commission to replace all of the non-original spandrel panels with back-painted wire-glass panels to match the original panels and restore the original design intent of a continuously reflective and polished façade.
Tishman Building
Built in 1959 on Lafayette Square in downtown Buffalo, the 20-story glass and steel curtain wall office building is one of few designed by Emery Roth & Sons that was built outside of New York City.
Its new owner, the Hamister Group, is converting this recently landmarked skyscraper, the only one of its type in Buffalo, into a Hilton Garden Inn, market-rate apartments, and a corporate headquarters. Jonathan Morris, the principal-in-charge from project architects Carmina Wood Morris, recently took me on a tour of the construction site, and explained how the original single-glazed Kawneer glass and steel curtain wall is being cleaned and retained, while a double-glazed panel called "Renovate," patented by Berkowitz LLC of Philadelphia, will be affixed to it on the interior with a spacer bar. The new curtain wall will become a triple-glazed unit while aesthetically remaining the same on the exterior. The project was approved by the State Historic Preservation Office and will receive rehabilitation investment tax credits.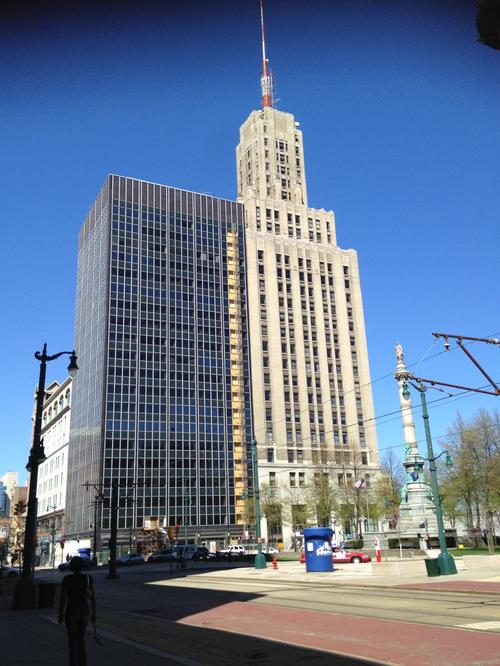 As these three case studies suggest, there are as many retrofit approaches as there are buildings. Thus, I'd counter the claim that midcentury buildings aren't worth retrofitting with what someone recently said to me after I gave a presentation on this topic: "A good architect can remake any type of structure."
Related posts:
— Barbara A. Campagna, founder of the architectural firm BAC/A+P, which occupies a niche in both the historic preservation and green building fields.