What does a zero emissions city sound like?
As a pedestrian standing on the sidewalk one rainy Sunday afternoon in Barcelona, to me the 100% electric traffic gliding by sounded like tires on wet tarmac as their wheels splashed through tiny puddles. Without the rain, it would have been even quieter. Certainly, there were no familiar growls of acceleration or chugging engines, just a barely audible hum.
The experiment known as the EV Large Scale Demonstration -- the first of its kind in Europe -- was conducted as part of the International Electric Vehicle Symposium (EVS27) in Barcelona in November and was designed to simulate regular traffic and show what a 100% electric city would feel like.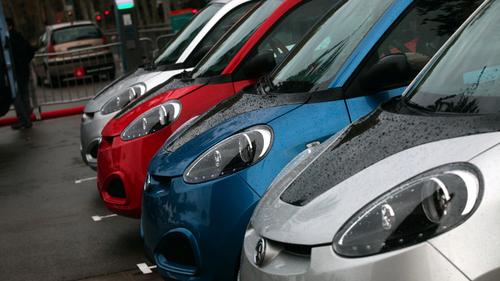 The more scientific answer to what a zero-emissions city sounds like was being measured by environmental quality engineers from Catalunya's Department of Land and Sustainability (Departamento de Territorio y Sostenibilidad de la Generalitat de Catalunya) who set out to gather three sets of data: the level of noise, the amount of air pollution, and the heat output of the circulating traffic. They then compared that data to a regular day of traffic.
What they discovered in the unique two-hour experiment was that overall noise compared to normal traffic on the same street -- Carrer de Roger de Flor -- was 7 decibels lower. In other words, it reduces the noise by 50%. To reach that lower noise level with regular traffic, you would have to cut the number of vehicles on the road by 75%. Put another way, 250 combustion-engine vehicles generate the same noise as 1,000 electric vehicles.
The mix of electric vehicles -- 56 in all -- circulating around the cordoned off blocks included 45 cars, five motorcycles, four trucks, and a bus.
For some individual vehicles the drop in noise was huge. For instance, the electric bus was 14 decibels quieter than its combustion-engine equivalent. And the all-electric garbage truck dropped the noise level 18 decibels. To give some measure of comparison, a 20 decibel increase makes things sound about four times as loud to the human ear.
The EV Large Scale Demonstration was jointly organized by the Catalan Association for the Promotion of the Electric Vehicle Volt-Tour, Catalan Government -- Catalan Energy Institute (ICAEN), Barcelona City Council, and Plataforma LIVEBarcelona.
The measurement of pollution levels and heat output for the electric-vehicle traffic and their comparisons to regular traffic had not been released by time of publication.
Even before this experiment, electric mobility was high on the agenda of Barcelona city. In late spring 2014, the city's 10,000 strong taxi fleet will start converting to zero-emissions vehicles which are being produced at the new Nissan factory on the outskirts of town. Since September, Transports Metropolitans de Barcelona (TMB) has been testing out a fully electric Chinese-made bus, the BYD K9, in a two-year trial to see if it can perform as well as a regular bus on comfort, efficiency, and cost. If all goes well, TMB plans to replace the whole fleet.
At the same time, the Generalitat de Catalunya -- the Catalan regional government -- will further subsidize electric car purchases, which will add up to 7,000 euros (almost US$10,000) per vehicle in a bid to reach 76,000 electric vehicles in Catalunya by 2016. That figure would include public and private vehicles, plus motorcycles. Right now there are 1,175 electric vehicles in region.
With two pollution alerts in Barcelona in December alone, there is no time like the present to push forward on zero-emissions. And who wouldn't welcome a quieter city by half?
Related posts:
— Susan Llewelyn Leach, Smart Cities Correspondent, Barcelona