I approached the Wearable Tech World expo at New York's Javits Center this week with a sense of foreboding.
"Please," I murmured, "Don't show me yet more smart wristwatches. There's nothing exciting about taking a smartphone and strapping it to some part of the human body." What's more, "I don't really want to see more smart glasses, if all it means is suspending a screen in front of someone's face."
At this point, the hot dog sellers outside the "marketplace for the world" were giving me funny looks, so I stepped inside, and found much what I expected. The Javits covers almost 2 million square feet, and for this show, wearable tech prototypes were covering about, oh, 40 of them. As at last year's conference, I found too much talk, not enough tech.
Respected analysts have made dramatic predictions for the future of wearables, and there was no shortage of slides at the expo projecting a multi-billion dollar market for enterprise-targeted wearable tech alone. But we also heard the usual caveats. Although Deloitte is so bullish about the market that it's putting its considerable muscle behind smart glasses for the workplace, senior manager Joe Fitzgerald had some important warnings.
"You're going to need to integrate," he said. A viable wearable tech environment must be a multi-platform environment. There's a "huge amount of hype," he said, about the Internet of Things, but innovative devices need to be able to plug into a standard enterprise IT environment.
What's more, while field use of wearable technology, especially by remote, lower-skilled workers, makes sense in principle, it will be necessary to overcome communication delays and outages, and comport with safety regulations.
While it's a great idea to develop headsets that allow a mechanic or an inspector in the field to get hands-free, contextual information -- and to allow supervisors at base to see what he or she sees -- I'm looking for something beyond clunky goggles, awkwardly manipulated by tapping the frames.
Augumenta, a Finnish startup, makes a powerful case for smart glasses that can be operated virtually by gesturing in space. Application controls appear in your visual field while you're wearing glasses, and you can press, click, turn, and adjust the controls by moving your hands within the visual field. Since that field is private to you, one thing you can do is enter a password or pin code without anyone seeing the virtual keys you're pressing.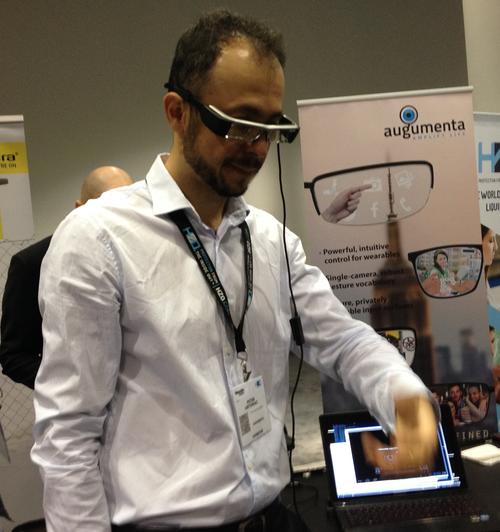 Augumenta is creating the middleware, and is agnostic as to device platform, although it depends on a device that can recognize gestures -- and right now that primarily means relying on Android OS (back to the multi-platform point).
If we're to go beyond converting smartphones into smart glasses or wristwatches, and develop genuinely innovative wearabiliy, there are some practical issues to be considered. HZO, based in Salt Lake City, has been working on the fundamental problem of keeping electronic wearables dry.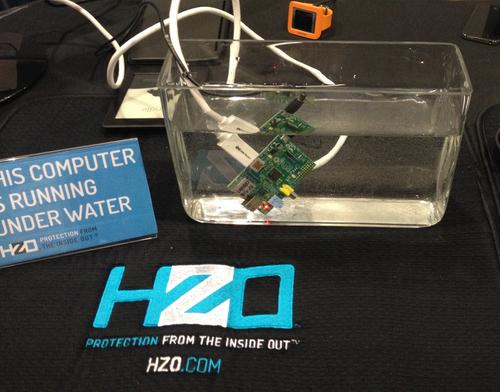 Making a small computer work is fun, but the potential of HZO's liquid protection technologies is much further reaching. It's easy to foresee wearables we won't want to take off when swimming, when showering, or just in the rain -- for medical reasons, work reasons, or just for convenience. HZO's technology, ideally built-in at the manufacturing stage, guards against water damage and corrosion.
For anyone (like me) who thinks the true future of wearables lies, not in accessories, but actually in garments with sensors embedded, the kind of durability HZO claims to offer will be important.
Finally, what would have been neat at the expo would have been me being a pivothead. That means I should have been equipped with Pivothead wearable imaging. What, just a better-looking Google Glass? Not really. Pivothead doesn't just capture images or video -- although it does that, of course. Its Smart Series is geared to streaming what you see or hear to unlimited numbers of remote viewers.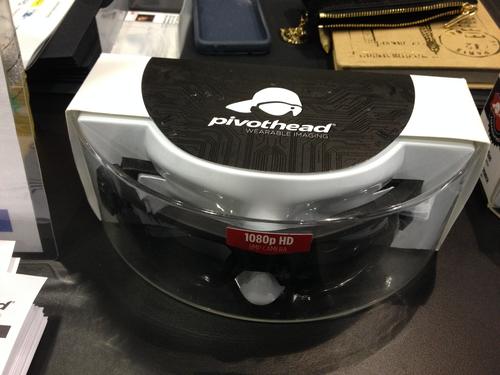 Importantly, it can be accessorized to power up to six hours of video. It's HD, Bluetooth-compatible, and by the present standards of smart glass design, it's sleek and relatively unobtrusive.
And if I can get one for next year's expo, you'll all be able to see and hear, in real-time, whether the industry has really made big advances on heart-monitoring wristwear. Let's hope.
Related posts:
— Kim Davis

, Editor-in-Chief, UBM Future Cities