As the stream of bad news from Israel and the Gaza Strip threatened -- not for the first time -- to become a flood, I turned away from politics briefly and looked for any signs of attempts to address problems of urbanization in Gaza City, the largest city in what has sought to be recognized as the
State of Palestine
, and a municipality
since 1893
.
After all, when the bombing stops, problems of reconstruction, poverty, and sustainability will again come to the fore.
I didn't find much, but what I did find was moderately heartening.
For one thing, Gaza City, which is officially run by a municipal council under Mayor Rafiq Mekki, has made steps to become a signatory to the EU's Covenant of Mayors. This is a group of "local and regional authorities, voluntarily committing to increasing energy efficiency and use of renewable energy sources on their territories." The signatories, for example, have committed to meeting or exceeding the EU's 20% carbon dioxide reduction target by 2020.
Unfortunately, Gaza City's status is currently on hold, because it missed the deadline to submit a sustainable energy action plan (SEAP).
Nevertheless, the city is striving to welcome new technology startups, boosted by local business accelerators like the Palestinian Information Communications and Technology Incubator (PICTI) and the more catchily named Gaza Sky Geeks.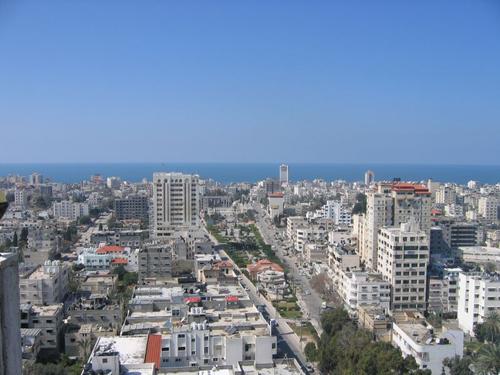 But perhaps the most interesting document I came across was a master's thesis that takes Gaza City as the implementation for a "sustainable and smart urban development model" based on a central vision for public transit. Refreshingly, though, this isn't a micro-plan for improving urban transportation. Rather, it presents a holistic vision, addressing "land use, transportation planning, environment and all fields of growth management" from a transit-oriented development perspective.
With bold understatement, the authors (Shaymaa Ali Maher and Abdela'al Abu Rass) admit that "the urban planning system in Palestine seems to be unique in its composition and context. This uniqueness is related to the fact that planning practice was controlled and experienced by external forces and occupations."
They note that urban planning faces many obstructions and obstacles. Nevertheless, they show in some detail how transit planning can reduce automobile dependency and urban sprawl and in turn have a beneficial impact on congestion, pollution, and affordable housing -- fostering the kind of smart growth which "seeks to revitalize the already-built environment and, to the extent necessary, to foster efficient development at the edges of the region, in the process creating more livable communities."
In the most trying circumstances, people can plan, at least, for a brighter, smarter future.