The increasing global incidence of extreme weather events will surely lead to many cities reconsidering their building code provisions. Less than two years since being hit by Hurricane Sandy, New York City has made rapid strides to improve building resiliency in the face of flooding -- and has made some surprising changes to established construction principles.
Andrew Ciancia, managing principal at Langan Engineering reviewed new legislation passed by the City Council at a seminar organized by New York's Urban Green Council. The context? Ocean levels are rising for a number of reasons and, said Ciancia, "our grandchildren's grandchildren are going to see things which we have to prepare for now."
According to him, the global community under threat from flooding, tidal surges, and tsunamis have three lines of response open to them: retreat, defend, or attack (or, of course, some combination of the three). Retreating implies mass relocation of communities away from danger zones. We're likely to see some of that in New York -- for example, in Staten Island, he said -- but, of course, there's a substantial social and economic cost involved.
Attacking means building out into the ocean, safely and securely. It's expensive too. New York's new legislation is primarily about defense, about building sustainably resilient new constructions in flood zones (and almost all the legislation Ciancia discussed does apply only to new, or substantially remodeled, buildings). Ciancia discussed a number of the new measures. (Details can be found at the UGC website.)
Getting better maps
The city had been relying on thirty-year-old FEMA maps of flood zones. The discrepancy between FEMA's 1983 designated flood zones and the areas of the city actually affected by Sandy is startling. Much better data is now available from satellite depictions of the actual impact of flooding, and it's now mandatory to use current and accurate maps for defensive planning (evacuations, for example).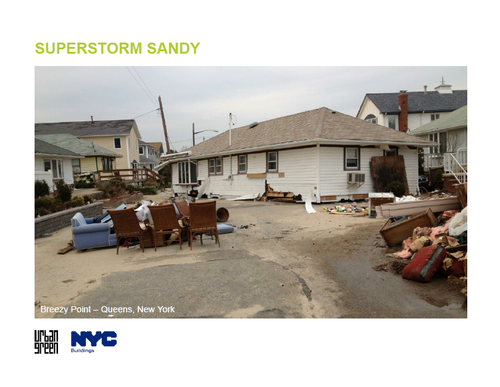 Setting standards for elevating buildings
Regrettably, unregulated rebuilding of parts of New Orleans after Hurricane Katrina meant, said Ciancia, that "a lot of shoddy construction was done." New York's new code now sets stringent standards for building and rebuilding elevated structures in flood zones. The work will have to be done by certified contractors, with appropriate permits, and inspected by qualified architects or engineers.
The new code will allow the space below base flood elevation level to be used for parking, and some kinds of storage, but not as living quarters, or for the location of important electrical equipment.
Changing direction on cabling and fuel
These are two prime examples of dramatic reversals of traditional construction principles. The new code used to require that basement storage be used for fuel, and for much electrical equipment -- a bad idea if that basement is going to be underwater. The new code increases the permitted length of optical fiber cabling, allowing electrical equipment to be located higher in the building.
The new code also increases maximum fuel storage on the lowest floor above design flood elevation level. To protect against the obvious hazards, it does require a "three hour fire" safety vault enclosure -- for the elevated fuel storage and the space below it. Essentially, hazardous gear and material can now be stored higher in flood-threatened buildings.
Making temporary flood shields easier
Buildings will now be permitted limited encroachment beyond the building line (i.e. into the street) for the purpose of supporting temporary flood shields and access stairs.
Allowing gas-powered standby systems
Ciancia described this as "a big one." Standby systems, under the new code, which support lighting, fire alarms, and elevators, can now be powered by gas. Indeed natural gas will now be permitted as a building's sole fuel supply -- and this, unlike the other measures discussed here -- applies across the board, not just in flood zones.
Natural gas is a much more reliable power source under flooding conditions.
Coming changes
The city council didn't stop there. It has already changed the code with respect to storage of toxic materials and the creation of mandatory emergency plans. More legislation is expected, for example, on ensuring the supply of drinking water and the continued functioning of sinks and toilets in the event of flooding.
But as Ciancia said, passing all these laws in two years or less? "That's pretty quick."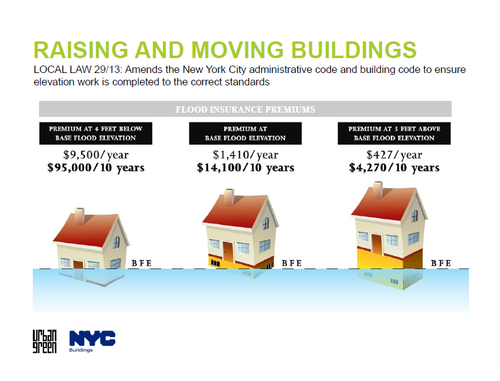 I asked him whether we'd really see benefits from code changes which only apply to new (or substantially reconstructed) buildings. After all, are people really rushing to build in flood zones? He pointed to a big incentive for all constructions: The huge savings in flood insurance premiums which are likely to accrue where buildings comply with the new framework for flood defense.
"You can't force people who had minimal damage [from Sandy] but were able to survive. But if insurance premiums go up by a factor of five to ten, they might choose to protect themselves."
Does New York have the right blueprint for increasing flood resilience? What are other threatened cities doing? Let us know below.
Related posts:
— Kim Davis, Editor-in-Chief, UBM Future Cities