When it comes to the Internet of Things -- or the Internet of Everything, as Cisco boldly calls it -- people blow hot and cold.
People blow hottest, of course, in techno-visionary circles, and among the vendors who are developing the devices and networks. Expect, for example, a full-on sirocco gusting from the Apple developer shindig this week, where we'll learn more about a world of Made For iPhone (MFi) devices.
But difficult challenges remain. What about adequate bandwidth, for example? Are vendors willing to commit to the interoperability over distributed networks (what Cisco calls the "Intercloud")? And, as ever, what about security? These were some of the questions in my mind when I listened in on a recent IoE roundtable at Cisco Live 2014. It was an opportunity to hear about how municipal partners are applying IoE solutions in real-life urban contexts.
We heard from Kansas City, Mo., mayor Sly James; San Mateo, Calif., assistant city manager Matt Bronson; Dan Buckley, lead engineer and design manager at Harris Corporation, communications vendor, and a partner of the San Francisco Municipal Transport Authority; and Zia Yusef, CEO of IoT parking solutions vendor Streetline.
The Internet of bus routes and smart city parking may not quite be the Internet of Everything, but it does provide the chance to test IoT technologies in a series of discrete pilot programs, with clear aims and goals.
In San Francisco, for example, Harris is under contract to modernize transit communications technologies, some of which date back 40 years. Broadband simulcasting throughout the city will allow travelers, as well as the transit authority, to monitor services, offering real-time arrival and departure predictions at boarding points.
San Mateo's Silicon Valley location has raised expectations that the municipal government will examine cutting-edge technological responses to bugbears like finding a parking spot. As Bronson said, "We're in the process of shifting our policies to reflect the demand the data suggests." That demand is precisely for a parking management plan which leverages IoT tools to cope with ever-growing demand.
Interestingly, Streetline, the vendor partnering with San Mateo, has adopted a dual approach to real-time demand monitoring. Sensors can detect whether a parking spot is vacant or occupied, and can provide analytics to help predict demand and adjust parking rates accordingly (yes, there's a revenue stream in there). Ideally, the parking inventory converges from both over-congestion, and equally inefficient under-use, on a happy medium where use and availability coincide.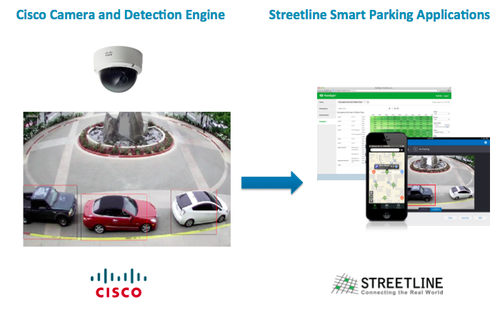 But the program uses Cisco's cameras too. IoT technology tends to be so focused on connecting up sensors with networks that more traditional monitoring techniques can be overlooked -- but, as Yusef pointed out, cameras can be a useful substitute for parking inspectors, and can perform a security function. They can also levy charges by reading number plates -- something sensors can't do. "Are there better, faster, cheaper ways to detect the real world (than sensors)? Sometimes a camera can do a better job."
What's more, many major US cities have an existing network of video cameras.
Energy remains another obstacle to widespread use of sensors. Lithium batteries lasting two to five years are available, and 10-year batteries may be on the horizon. Sourcing power on city streets from the city grid just isn't a straightforward option.
The Kansas City project is a somewhat broader attempt to address a portfolio of challenges using sensor, and other, technologies. Interactive digital kiosks, HD security video, and of course parking monitoring, are among the opportunities Mayor James envisages for a series of public-private partnerships.
Perhaps this is how an over-arching IoT solution for cities develops. Not through grand schemes to migrate the urban infrastructure to distributed digital networks, but through a chain of projects, designed not only to improve services, but to secure revenues, and fully test each potential weak link.
— Kim Davis

, Editor-in-Chief, UBM Future Cities
Related posts: