On the occasion of Meeting of the Minds/Living Cities group blogging day, we look at challenges and opportunities for connecting all city residents with opportunities for better living.
The urban explosion is going to require newer, smarter responses and different ways of thinking and talking about citizens and technology if it's going to live up to its incredible potential. Between the implausible utopia of Le Corbusier's Ville Radieuse -- designed to be built on "the grounds of demolished vernacular… cities" -- and the nightmarish dystopia of J.G. Ballard's High Rise, there must be a future urbanism hospitable to all. Indeed, writers like Jane Jacobs, and more recently Leo Hollis, have argued that it's precisely the vernacular city, in all its messy experimentalism, with high population density and active street life, that best accommodates its citizens.
Densely populated cities may also represent the best accommodation between citizens and the natural environment. Geographic concentration and economies of scale can produce greener outcomes for energy generation, transportation, and food production. With the potential benefits, of course, come challenges -- in particular, the related challenges of sustainability and poverty.
Not only many vernacular cities, but also fully planned cities like modern Dubai seem to have poverty woven into the urban fabric. Historically, rapid metropolitan development has often been driven by the migration of the rural poor. In eighteenth century England, the industrial revolution drove agricultural workers to cities like Manchester and Birmingham to find work among the concentrations of factories.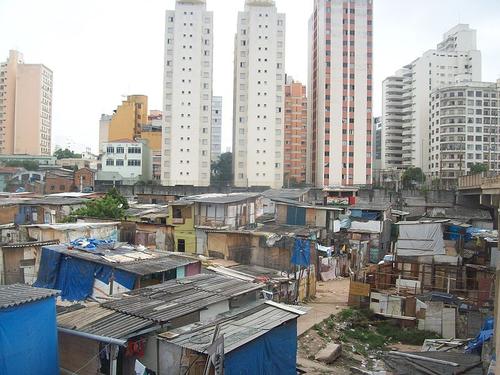 In the twentieth century United States, millions of workers moved from the south to northern cities like New York and Chicago for both economic and socio-political reasons. Equally, an "instant city" like modern Dubai doesn't spring spontaneously from the desert sands. As Daniel Brook has described well, such developments can depend on the importation of hundreds and thousands of guest workers: fully 96% of Dubai's population is immigrant, whether wealthy or very poor.
Is it possible to impose sustainable technologies and habits of life in circumstances where so many citizens are struggling to piece together the basics of existence. Rather than being possible, it may actually be necessary. It is estimated that between 2010 and 2050 the world's urban population will have grown by some 2.5 to 3 billion, meaning that two thirds of humanity will be living in cities. Given the potential for extreme poverty and "environmental degradation" represented by future megalopolises, exploiting the alternative potential for sustainable urban infrastructures -- including the economic infrastructure -- is the only sane option.
Fortunately, there are two reasons for moderate optimism. One development, which has been the primary focus of UBM Future Cities from day one, has been digital innovation. It turns out that the Internet is not just for cats. The perfect storm of M2M data, big analytics, cloud computing, and mobile connectivity hold out the promise, at least, of smarter, and thus more efficient and sustainable urban environments. We've discussed the so-called Internet of Things here a lot recently. It's not a full reality yet, but it's an exciting and proximate future.
All very well for things, but what about people? The second development, which I think has received less attention, is probably generational. What a long way we've come, in my lifetime, from the days when Theodore Roszak could subtitle his 1969 bestseller, The Making of a Counterculture, "reflections on the technocratic society and its useful opposition." For at least two decades, technology -- especially the technology of corporations -- was regarded as the outright enemy of sustainability and ecological responsibility. Such attitudes are far from extinct.
What I've been seeing in this new millennium, however, are signs of intelligent corporations and urban activists beginning to work together. The rapprochement is partly symbolic. It's intriguing, for example, that the architect Kelvin Campbell, whose smart urbanism initiatives are focused on collective, bottom-up innovations, naturally talks about an "operating system" for urbanism, or "open source" urbanism. But when activism and what Roszak called "the technocracy" share a common language, the chances are they increasingly share a common purpose.
One positive sign is the proliferation of partnerships major corporations like IBM and Cisco have formed with city agencies. One big negative is the resilient data showing substantial minorities of city dwellers -- inevitably trending toward lower income segments -- who aren't connected at all. A "digital divide" persists in the United States, with poorer areas showing comparatively low rates of home computer use. The situation is worse in many other areas of the world.
It's for economists, technologists, and urban planners to flesh out the strategies that will carry us from the daunting challenges of the urban explosion to city environments livable and sustainable to all. The modest contribution a website like UBM Future Cities can make is teasing out the trends that show technologists, activists, and citizens speaking the same language, and also -- by example as well as exhortation -- putting engagement at the center of urban discourse.
Don't forget to read bloggers' responses to the question: "How could cities better connect all their residents to economic opportunity?" at the group blogging event hub. Find out more about Meeting of the Minds here, and Living Cities here.
— Kim Davis, Editor-in-Chief, UBM Future Cities

Related posts: