Modernism in urban architecture is not all about straight lines, clean planes, and the celebration of functionality. If you need a reminder of modernist paths not taken -- or not taken enough -- enjoy this short film about Catalonian architect Antoni Gaudí's Casa Batlló.
Think of it as the anti-Bauhaus.
The Bauhaus movement sprang from a German academic milieu in 1919, and stood for, in Mies van der Rohe's words, the "spatial implementation of intellectual decisions." What this meant in practice was buildings as machines, comfortable in displaying their own functionality, and largely devoid of ornamentation.
Barcelona's modernisme, which slightly predates the Bauhaus, produced supremely livable houses and apartment buildings, but never ceased to express aesthetic and cultural ideals beyond basic utility. To some sensibilities, the result is fantastic and cluttered. More positively, it might be taken to suggest -- and enact -- ways in which urban living can be an extension of natural ways of life, rather than a reflection of the urban machine.
In Gaudí's hands, modernisme is an expression of the organic. In the Casa Milà apartments (also known as La Pedrera -- "the rockpile"), there's hardly a straight line to be found, from the ground-floor grotto-like entrance to the mushroom-like chimneys on the roof. La Pedrera has been open to the public for years, and I've repeatedly visited, marveling at how Gaudí's craftsmanlike moulding of curved surfaces makes private apartments -- as well as common areas -- seem so homely and welcoming.
Casa Batlló, on the broad stretch of Passeig de Gracia, which runs parallel to the extension of the Ramblas above the Plaza Catalunya, has only been open to the public since 2002. It was built as a private home for one family, and its current appearance dates from Gaudí's radical 1904 refurbishment of the original building.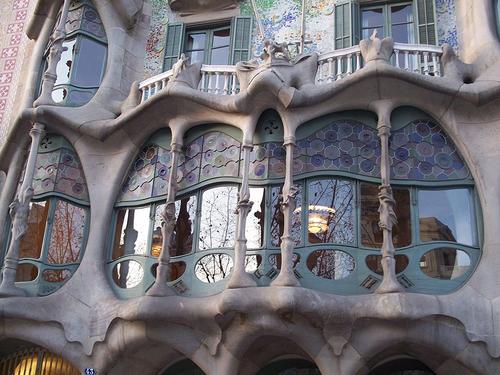 It would be quite wrong to idealize Gaudí as a progressive urban artist. His art and architecture expresses deeply held religious views. Casa Batlló, indeed, is at one level an allegorical representation of Barcelona's patron saint, Saint George, slaying the dragon -- from the almost sinister, bone-like structure front windows to the dragon's spine which centers the roof terrace.
But there are still messages to be learned, especially at this curious juncture in the history of urban planning where a universal understanding of the city as a node of technologies is taking hold. Our sense of the organic need not necessarily be sacrificed to our sense of the urban environment as a seamlessly connected digital machine.
Created by Estudio Nueveojos, this movie, "Love Casa Batlló," just won the grand prize at the Riga international tourist film festival, and it brings the organic aspects of the building vividly -- and literally -- to life. Enjoy.
Special thanks to our Barcelona correspondent, Pablo Valerio, for bringing the movie to my attention.
Related posts: