Jane Jacobs, the author and activist, died almost exactly eight years ago, aged 89. She not only lived through almost a century of startling urban development, she exerted far-reaching influence on how we all think about urban planning and the cities of the future.
In New York City, this coming weekend, the Municipal Art Society will be commemorating Jacob's work by hosting the seventh annual "Jane's Walk NYC" event. The Jane's Walk movement was born in Toronto, Jacobs's last home, in 2007, a year after her death. Volunteers in more than 100 cities worldwide lead these events, described as "walking conversations," and designed to help people learn more about their neighborhoods.
Some of the walks are featured at the Jane's Walk blog.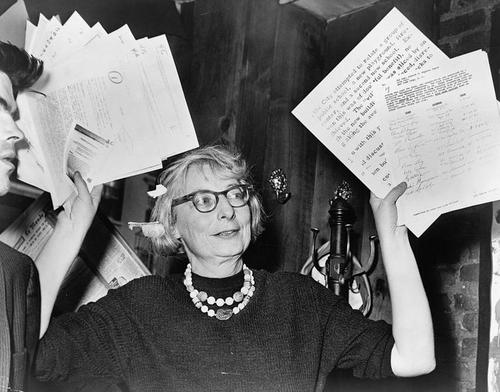 It's appropriate that Jacobs's legacy should be celebrated by something as simple as walking. Of all the many ideas associated with her work, perhaps the most important is the concept of the city as a place where communities live in the street. She valued the high density interaction of citizens with each other, and with street-level business and services -- a radically different vision of the future city than the towering residential siloes divided by empty green spaces associated with planners like Le Corbusier.
New York is characteristically going big with its Jane's Walk weekend. Over 150 informed strolls are planned. The full list is here. The variety of topics and locales covered is almost overwhelming, including the Atlantic Yards/Barclays Center development, the Domino Sugar Factory in transition, City Island, Brownsville, the Gowanus mural, the best of the Bronx, and daily life on the Lower East Side.
I've lived in New York for nearly 20 years, and believe me, there's plenty on this list I've yet to explore.
The tours are free. For the most part, they're led by local historians, authors, artists, and residents. The only real problem is deciding which one to take. The weekend finishes with a birthday party for Jane Jacobs at Hester Fair on the Lower East Side.
If any of our readers participate, we'd love to see your photos, and of course get your comments on the message boards below.
— Kim Davis

, Editor-in-Chief, UBM Future Cities