I'm not sure that I meant to inaugurate a tradition by allowing our caption contest cartoons to spark my own city memories, but I guess I just can't help it. One of my friends, driving arguably above the speed limit through London's West End, was pulled over by the police.
Police constable: "Were you trying to take off?"
My friend: "Take off what?"
Not, apparently, the right thing to say. I could tell some other stories, but prudence dissuades me. (Prudence is our new copy editor.) Anyway, enough humor -- let's move on to your suggested captions. Truly I was tempted by Terry Sweeney's "Ask Siri again what she meant when she said 'Head straight down this street,'" but the booty this time goes to TheITSystem's double whammy. Lashings of Starbucks headed your way.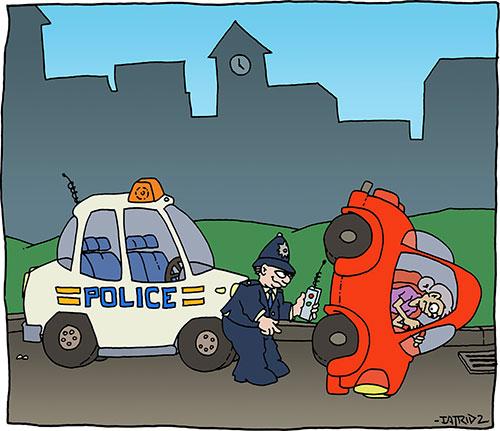 Related post:
— Kim Davis

, Editor-in-Chief, UBM Future Cities