Last Friday, I read two articles which could hardly have come from more contrasting sources; yet, put together, they struck some interesting sparks.
The first was an argument against the "Internet of Everything" by Mark "Puck" Mykleby, published by Greenbiz.com. Mykleby, a former US Marine colonel, is senior fellow at the New America Foundation, a public policy nonprofit described by commentators alternately as "centrist" or "eclectically liberal."
The second was a discussion of the limitations of technical thinking by a British philosopher, Roger Scruton. Scruton is a staunch conservative, and his piece was published by The New Atlantis, a journal supported by conservative think tanks. Strange bedfellows, but whistling a similar tune.
Mykleby poses the question:
Are we really at a point where we are so focused on leveraging technology to increase the efficiencies of production and consumption that we have no room to question whether what is being produced actually is valuable or needed?
The context is the increasing capacity of new technologies seamlessly to connect -- and gain extreme visibility -- into every aspect of production and consumption. Mykleby focuses, for example, on a can of Coke. Data-driven insights into everything from growing the corn, through the production of high fructose corn syrup, to the manufacture and retail of the product, it's marketing and consumption, give us an unprecedented understanding of processes, and the ability to make them ever more efficient.
Mykleby wonders whether we really want to make the production of soda ever more efficient.
"I'm no Luddite and I'm not an anti-corporatist," he says: but he is concerned that new technologies are being driven by something like Moore's Law, rather than by human -- and humane -- planning.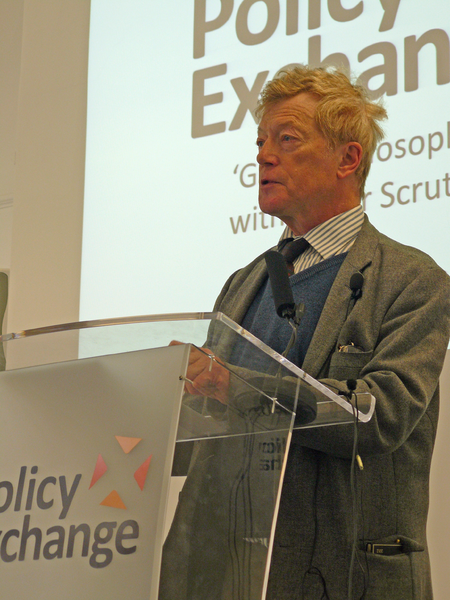 Scruton, on the other hand, is gunning for the "neurothugs" who attempt to provide scientific explanations of the experience of art -- but in making his argument, he offers reasons to believe that human experience in general is irreducible to the empirical (observational) statements on which science relies. Neurological events are observable; the first-person, or subjective experiences which are associated with them, are not.
So where do these two tracks cross? For me, both authors highlight constraints on the development of smarter environments -- including, of course, urban environments. To the extent that an Internet of Things involves off-boarding memory, planning, and analytics, onto an ever-evolving (and self-educating) network, it will inevitably aspire to become an Internet of Everything.
Indeed, a holistic "accelerating intelligence" environment would probably constitute the dream city for thinkers like Ray Kurzweil. Mykleby and Scruton, at the end of the day, are sounding the same warning. By all means build smarter cities -- but measure smartness by human standards.
For Mykleby, advocating for the environment must nevertheless be a humanist advocacy ("our voice has to be a humanist voice"); and for Scruton, the humanist point of view is never, ultimately, reducible to scientism.
Do we have anyone out there prepared to advocate for the rule of machines, or argue that humans are just (more or less dysfunctional) machines anyway? Let us know on the message boards.
— Kim Davis

, Editor-in-Chief, UBM Future Cities
Related posts: