Are computer tablets the quick fix for what ails our city schools? Can they save money while improving education? Those are typical questions that are discussed by every school board, and not just in the US. Some countries, lacking a strong education structure, are looking to go direct to electronic means to bring education to all -- in cities, and elsewhere.
But are these the right questions to ask? There's a great danger that "teaching to the textbook" will creep over into the electronic classroom. There are pressures to do just that. Textbook publishers are seeing the writing on the wall, and are extending their profit centers to encompass online courses, and to encourage state-wide standardization, much as with text books.
Concerned parents are pressing for limited access to the Internet, for fear their adolescents access the seamy side of the web. Add to that the conservative nature of the staff organizations, a lack of funds for creative approaches and a positive insistence on across-district uniformity, and education is moving into the electronic age carrying the baggage of a century of rote learning approaches.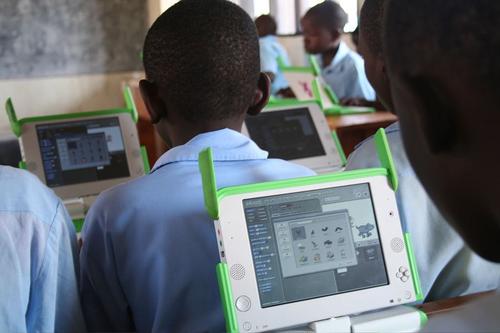 For example, teachers and schools are measured by test results. Defying conformity becomes a career-limiting choice.
Teachers know what they are up against. Many kids have smartphones almost as capable as the tablets, and those phones aren't restricted as to how they can be used. Give the pupils a cheesy, boring textbook on a screen and tell them to read pages 120 to 124 -- and the phones come out. There may even be some intrepid students who can break out of any limited online environment, and access anything on their school tablet. I confess my own inclination would be to encourage them.
Why should I support mild anarchy in the classroom? First, it's already there. Bright students are bored by classes paced to the less-capable student. Second, the object of school is for a student to learn about the world and get skills that are relevant. We need to encourage inquiry. And if it occasionally strays into more adult territory, that may be part of the risk of growing up. (It'll happen anyway!)
This puts the question of how to teach with electronics front and center. The liberal worldview that shaped high-school education frowns on separating fast-track students from the slower-paced kids. We should take the electronics as an opportunity to let pupils progress at their own pace more.
As an example, grouping students to investigate all they can find on an issue online is probably a much better use of the first 30 minutes of a class than reading pages 120 to 124. Then have a discussion. The result will be more inquisitiveness, a sense of ownership of their education, and self-confidence in group communication. And it will be a heck of a lot more fun.
If this sounds like a Platonic symposium, or a Cambridge tutorial, that's correct. It builds an education with depth, stimulates the mind, and opens vistas. Those are all laudable goals for any education system. Even lower-performing students are helped by the approach, since it is more exciting and interactive than book-reading, and will stop them from turning off in class.
So how do we get there? The first step is with the education bureaucrats. State education systems need to let go of standardization, and school districts should allow more flexibility in their basis of teaching. At the same time, districts should realize that there's no harm in working cooperatively with other districts to find answers.
Once the permission is available to experiment, the teachers should take the driving seat. They aren't working in a vacuum: This type of teaching is having success in many places. In the end, I believe that much of the coursework will be built by the teachers, written to a great extent by them, and augmented by commercial products.
In fact, as the publishing profession has found, teachers write the best courses. If districts want teachers to build out online teaching content, they need to pay them. It's a substantial effort, after all, but I bet a lot of teachers would want to help, especially if their low pay is augmented.
Universities like Carnegie-Mellon could step into the void in science and math teaching, creating masterworks that can be used by many schools. If this happened via a US government grant, the courseware could be provided free to the school districts. That would be a positive use for our education tax dollars.
The bottom line is that school boards need to decide what will be taught, and how, before spending a ton of cash on tablets. If all classes achieve is "Get out your tablets and read pages 120 through 124," the opportunity to make school relevant, exciting, and valuable will be lost.
Related posts: