Cities that want residents and tourists to enjoy themselves within their own borders after work should examine Montgomery County, Md.'s suggestions for creating a "nighttime economy."
After work, people go where the action is, whether it's to eat and drink or be entertained. Montgomery County, which is adjacent to Washington, DC, and across the Potomac River from northern Virginia, wants to encourage people to have fun in its cities, not in other locales.
That's why the county last year created a task force to develop recommendations for improving its after-work "nighttime economy" (i.e., after 6:00 p.m.), which I discussed in October. The recommendations were submitted, and the county published a 58-page report, plus appendices.
The report, "Destination Montgomery: Shining Light On The Nighttime Economy," should be required reading for jurisdictions that want to improve their after-work attractiveness. It suggests ways to rope in the millennials, a sought-after demographic segment that "are a net gain for the county budget -- they contribute much more in the form of taxable wages and recreational spending than they take from county services."
One of the ways of attracting millennials is to foster a vibrant nightlife, and the report discusses 32 recommendations for achieving that goal.
One of the most interesting recommendations is to develop a busker program in urban areas. "Busker" is an old-fashioned word, and it simply means a street performer: singer, musician, juggler, caricaturist, mime, etc. "Street performers enliven public spaces and contribute to the vibrancy of the areas in which they perform," the report says.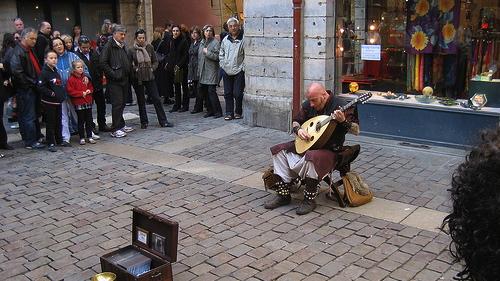 The task force recommends the county establish a database of buskers, just as there are databases of artists across the county. The county could establish guidelines for evaluating buskers, who could complete an application and submit samples of their work in order to be approved as a "Registered Street Performer." The county could conceivably hold auditions, designate specific zones for performing, and seek funding to pay entertainers.
Much of the information that's compiled in the county's database could be made public for businesses to select and evaluate specific entertainers as well for providing suggestions.
Along with entertainment, the county wants to improve access to food and drink, including food trucks. Except in certain limited situations, food trucks can't operate past dusk. Under the recommendations, food trucks would be allowed to operate in designated areas from 10:00 p.m. until the bars close.
The hours and operations of restaurants serving liquor are one of the most controversial recommendations in the report. Instead of stopping liquor sales at 1:00 a.m. on weekdays and 2:00 a.m. on weekends, the report suggests increasing those times by one hour.
In addition, restaurants should be allowed to change the ratio of food and drinks sold from today's 60% food/40% drinks to 50/50. This would "reflect the change in increased demand for higher quality, higher priced alcoholic beverages and... encourage establishment and operation of venues that host live music and other events," the task force says.
Interestingly, the county doesn't offer a specific bar or tavern license that would enable establishments to provide entertainment without having to sell food.
For many of these changes, businesses must obtain permits, often many types from different agencies. That's one reason "Montgomery County is viewed as a difficult place to do business, which can be a deterrent to attracting nighttime businesses and activities," the report says. As a result, the task force suggests establishing a "concierge" service to help guide businesses through the morass of county regulations as well as serving as a marketing arm to attract more high tech businesses to the county, especially where nighttime amenities exist.
A concierge is an excellent idea, and for optimal efficiency, the county might want to integrate the databases of various agencies so that only a single database is necessary to use for requesting all the permits.
There are many more recommendations, including improving law enforcement activities, beefing up public transportation, and establishing arts and entertainment "urban noise areas" with fewer noise restrictions late at night.
I live in Montgomery County, one block from one of its most vibrant areas, Bethesda. I can walk to hundreds of restaurants and shops, and take many public transportation options. However, it doesn't have the population density or excitement of some areas in Washington, DC, and northern Virginia, with their music clubs, bars, movie houses, and theaters.
The task force's recommendations could help improve the county's "nighttime economy," but a significant number of changes would be required to compete head-to-head with its neighbors.
Related posts:
— Alan Reiter, President, Wireless Internet & Mobile Computing