Municipalities worldwide are opening data to developers who provide free or inexpensive apps for consumers, businesses, and governments. Open data is a win for everyone. It has even helped me.
As I wrote previously, I live in Montgomery County, Md. My house is a 25-minute walk from northwest Washington, DC. I've always hated driving, because it's boring. I can't read or sleep at the wheel, and I have a terrible sense of direction (thank the gods for GPS). So I often take public transportation. Several months ago, I was waiting for the Metro ("subway" to non-Washingtonians), which has been experiencing scheduled weekend delays because of safety upgrades.
I asked a transit worker about the delays, and he asked whether I had the DC Metro Transit application on my Android phone. I didn't. He pulled out his phone and used the app to display the real-time arrival schedule. It's useful for finding bus and train schedules, transit news, service disruptions, and more.
DC Metro Transit is free with advertisements or $2.99 without them. Another app, DC Rider, is available for both Android and iOS. Both apps use Washington-area transit data, made freely available via APIs.
Transit applications are among the most popular municipal apps, because their value is obvious. Anyone who uses public transportation appreciates seeing schedules, especially in real-time. The more modern the transit system, the more likely it will be able to gather real-time location data.
The Washington Metropolitan Area Transit Authority (WMATA), which covers the District of Columbia and nearby areas of Maryland and Virginia, doesn't provide its own cellphone apps, though it does offer transit data APIs and a mobile-optimized Website. Instead, many WMATA employees use the two privately developed apps I mentioned.
Those apps are based on available transit data and illustrate how municipalities are increasingly accepting the open data movement. For example, last year, New York Mayor Michael Bloomberg signed a law requiring city agencies to place much of their numerical data into easily accessible formats by 2018. Yes, that's too long to wait, but it's better than nothing.
Portland, Ore., has embraced open data and has posted a catalogue of municipal apps. "The Catalog is unique because it includes public datasets from a wide array of local government jurisdictions," the government says on its website. "It is the only inter-jurisdictional repository of local public data of its kind in the United States, at least as far as we know." I suspect there are or will be a variety of similar catalogues.
Another compelling app is Public Art PDX, which indexes and displays dozens of Portland area locations in nine categories comprising hundreds of works of art. The app shows photos, addresses, and descriptions of the art, which includes ceramics, fiber, murals, paintings, photography, and sculptures.
An independent software developer, Matt Blair, used data from Portland's Regional Arts & Culture Council to build the app, but he had to spend weeks ensuring that the images and descriptions were accurate and converting the data into a form that could be integrated into the app.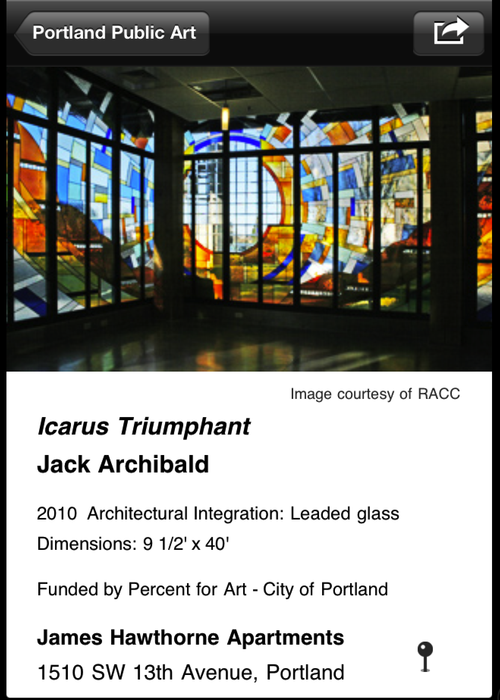 Previously, Blair won an award for another app, PDX Trees, which provides photos and other information about the city's special "heritage trees."
Portland is one of the cities that has held contests for apps, which is a great way to encourage development. Google recently held a contest for developers to produce apps that will "improve their community or government using the Google Places API." Google Places offers a variety of information about businesses, tourist sites, and other locations.
The contest ran until Nov. 30, but the winners won't be posted until Jan. 30. Google has posted more than 50 submitted apps, and city executives and IT departments should take a look at them. With the wealth of information available on the Web about municipal apps based on open data, there's no excuse for cities to promote anything less than excellent applications.
Related posts:
— Alan Reiter, President, Wireless Internet & Mobile Computing