LEDs are brightening up, sparking a migration from old-school applications in electronics displays towards eventual ubiquity -- the light that shines for urban illumination.
The kicker is less the widespread dissatisfaction with compact fluorescents, variously dinged as unreliable and difficult to dispose of (some contain mercury). Rather, a new generation of high-brightness, white-light emitting LEDs -- first envisioned in patents in the late 1990s -- has finally dropped down the cost curve. At less than a dollar for some devices, it's become a viable option for everyday indoor and outdoor illumination.
Most important is the fact that LEDs can use 75 percent less energy than old-fashioned Edisons, according to the US Department of Energy. "About 20 percent of all the electricity used is for lighting," said Doug Bailey, vice president of marketing at Power Integrations. "By having efficient lighting, we can really make a dent in the overall usage of power."
But a bare-bones LED can't be plugged directly into a 120-VAC light socket. To see service there, it has to be outfitted with electronics to control its operation as well as a housing that mimics the common household incandescent.
Enter vendors like Power Integrations, which has created a go-to-market template for the technology. Power Integrations, a maker of power-supply controller chips, has partnered with LED manufacturer Cree Inc. to create what's called a reference design for an LED light bulb that can be plugged directly into a standard socket.
"These are pre-made examples of how you use the [controller] IC," said Bailey of the reference designs. "If we can show [a manufacturer] a nice working example, then they've got somewhere to start from in the development of their own products."
That product packs back-end electronics behind the LED, and squeezes all the componentry into a light-bulb-like package. Bailey said:
It's an aluminum casting and the LEDs are spread around because they're low-efficacy LEDs so they chuck out a lot of heat, and the driver is inefficient. What we brought with the new technology is, most of the structure is plastic, it's light. You can feel that it's a lower-cost manufacturing process. And then our driver is tuned to the high-voltage LED. That gives us high efficiency for our driver, high efficacy for the LED, low heat dissipation and that allows us to use plastic for what looks like a heat sink [the fins on the housing], but it's not a heat sink, it's decoration.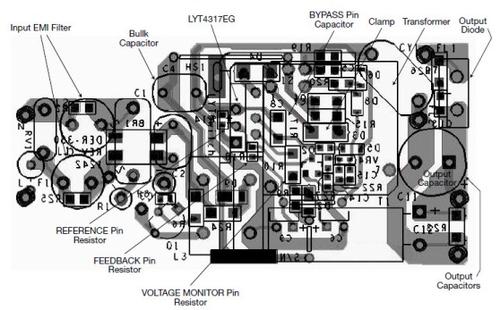 All that componentry begs the question: Has our $1 LED morphed into a bulb that's no longer cost competitive? Au contraire says Bailey.
"This is going to bring us toward a $10 bulb," says Bailey, who adds that product availability shouldn't be far off. "I hope that next year, people will be able to buy low-cost [LED] lamps off the shelves at Home Depot and Lowe's."
Indeed, a floodlet of LED lights from a variety of vendors are already consumer-ready. Both Home Depot and Lowe's have options starting at $20. The LEDs have the potential to last 30,000 to 50,000 hours, further enhancing their economic appeal as incandescent replacements.
"Ten dollars seems to be the psychological barrier that the industry expects will lead to a jump in LED bulb sales," said Carol Lenk, an MIT-educated entrepreneur who holds several patents related to LED lighting. "Historically, back in the 90s, we saw CFL adoption rates jump about ten-fold with a similar price drop. Today, with more people paying attention to energy efficiency, we could arguably see a higher jump than that."
Related posts:
— Alex Wolfe, Brand Manager, EETimes