Visit an environmentally conscious person's bathroom, and you'll probably still find electron-guzzling incandescents. Why? Because they make you look mahvellous. But they're not the future of city lighting.
Incandescent light bulbs are on their way out. Fluorescent tubes, ubiquitous in the office space, have never been big in homes. They're often noisy, and they're generally unflattering (though tubes of various characters have long been available). Compact fluorescents have achieved much in energy savings, but they're a stopgap -- rarely living up to their touted lifetime specs, and not terribly environmentally-friendly.
Enter the LED. It is already successfully addressing the problems of previous lighting technologies.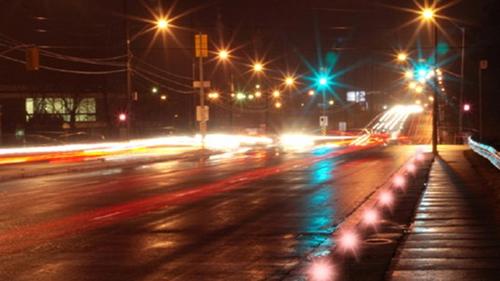 But hang on a minute. Before we madly rush to fill our homes, offices, and cities with LED lighting, let's take two deep breaths, and reflect on what we want from artificial illumination (besides being cheap to buy and operate).
There are two key factors that determine how we perceive the quality of illuminance. The first is known as colour temperature -- well known to photographers. (It's called "temperature" because it literally represents how hot a "perfect" radiator needs to be to emit a given spectrum of light. That's why a heated piece of metal goes from red-hot, through a rainbow of colours, until it reaches white-hot, which, as we've all known since Newton's day, is not a colour, but all colours.)
Incandescent lamps, because they possess a white-hot piece of tungsten, require only a temperature spec to signify their spectral character. Since their light contains all colours, illuminated objects appear natural, with well-rendered hues, though lower temperature ratings translate to yellower light. (As any lamp is dimmed, the light again becomes yellower. What it loses in colour accuracy, it gains in romance, which raises the question: Should LED lights become yellower when dimmed?)
The second factor used to judge light quality is the CRI, or Colour Rendering Index -- a measure of how well the full range of colours is discernible. A tungsten lamp, even though tending to a slightly yellow warmth, is assigned a CRI of 100 -- the spectrum is reasonably smooth and continuous. But many other lighting technologies, including fluorescent and LED, have much spikier spectra, resulting in CRIs in the 50 to 90 range, or even lower for the more monochromatic lighting sometimes seen in utilitarian outdoor installations.
As technology marches on, we find that the best fluorescent tubes (with a CRI around 90) can now give tungsten a run for its money, and LED lights that utilize several LED colours and/or one or more phosphors are virtually indistinguishable from glowing metal in both CRI and colour temperature. Other, currently exotic tech, like OLED, may also have a role in the future.
But it doesn't really matter to us end users. All we want is lighting that makes people and colours and flowers and rooms and streets and offices and pictures on our walls look their best -- without flicker, noise, or excessively high cost. Lighting that makes us feel good -- that invites us into the inner and outer spaces of our lives.
LED lighting is poised to become the dominant player in present and future cities. The technology is already excellent. Efficient, warm, high-CRI, dimmable lamps and fixtures are available now. Though still quite expensive, prices will continue to drop, and efficiency will continue to rise beyond its already high level.
Companies that put the effort and research into making quality lighting need to know that consumers and installers care. It's up to us to determine if our future is to be lived under the harsh rays of slipshod LED luminaires, or the natural, flattering, inviting glow of well-engineered LED lamps, tubes, and fixtures.
Related posts:
— Michael Dunn, Editor in Chief, Scope Junction