Singapore's development has largely been shaped by its quest for water availability. Other cities, inevitably set to face water crises themselves, should take a close look.
In 45 years, Singapore has changed from a city with dilapidated buildings, polluted riverways and canals, and almost total dependency on outside water sources, to a thriving city with high living standards and a clean environment. This progress, however, has resulted in increasingly higher demand for clean and affordable water.
Policymakers have moved fast to strengthen Singapore's internal capacities to produce water. Within this framework, the work of the Public Utilities Board (PUB, national water agency) has been crucial. The PUB has developed the island's water supply system, developing the "Four National Taps" strategy -- including water catchment (17 reservoirs from only three, and large networks for almost 100 percent of rain collection); ultra-pure recycled water known as NEWater; desalinated water; and imported water from Johor, Malaysia.
The desalination capacity is 30 Mgal/day (or 136,000 cubic metres), and by the end of 2013, it will increase by another 70 Mgal/day (or 318,00 cubic metres) with the operation of a desalination plant constructed under a Design, Build, Own and Operate (DBOO) model.
NEWater is ultra-clean, high-grade reclaimed water made possible thanks to membrane technology. It covers around 10 percent of the needs of the country and is used mainly for industrial purposes but also for non-direct potable use.
Much investment in infrastructural and technological development has thus been poured into water-development. This includes, but is not limited to, S$2,000 million spent on drainage development projects, S$3,600 million earmarked for the first phase of the Deep Tunnel Sewerage System to collect all used water or wastewater produced, and S$300 million to clean the Singapore River, the city's main trade artery.
The largest and most urbanized catchment is Marina Barrage, constructed in the commercial and business centre. Its catchment area covers 10,000 ha or one sixth the size of the city-state, and together with two new reservoirs, has increased Singapore's water catchment from half to two-thirds of the country's land area.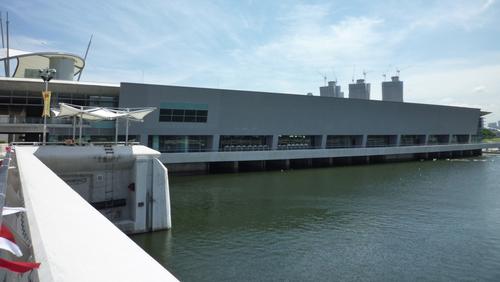 One could say that innovative water resources planning and management have resulted out of necessity. Nevertheless, the policies, programmes, and plans that have emerged from this imperative have come from exemplary political will, a clear national vision, and long-term coordinated and continuous planning exercises.
Further, Singapore has attracted significant amounts of foreign investment for industrial development in spite of, and perhaps because of, its strict environmental regulations and enforcement schemes to control water, air, and land pollution. In terms of water, trade effluent discharge standards adhere to strict norms that are stringently enforced. They do not allow watercourses to remain "moderately polluted" as many other countries do. This has contradicted claims made by every other nation that a sturdy environmental protection framework will drive international investors away and will negatively impact industrial development.
There are also lessons to be learned from the strategies implemented to clean up the river systems, many of which were polluted when Singapore became independent. Ten-year long activities were part of the redevelopment of the city-area and included S$300 million worth of development as well as the relocation of large parts of the population and reorientation of their economic activities.
Economic development along the Singapore River banks, or construction of a mass rapid transit tunnel under the river, would have been impossible if it and its surrounding areas had remained severely polluted and congested. The entire programme left a legacy for the future generations and gave the present one a refreshing sense of achievement. The visionary Prime Minister, Lee Kuan Yew, realized in the late 1960s that on a long-term basis it is much more expensive for a society to live in a polluted environment compared to a clean one. Nearly half a century later, most political leaders have still not grasped this.
Looking ahead, Singapore's main challenges will come mostly from outside the water sector. These include increasing urbanization, high energy prices, climate change and, of utmost importance, the haunting task to change social attitudes to make water use and conservation more efficient.
Related posts:
— Cecilia Tortajada, President, Third World Centre for Water Management, Mexico