When urban chicken farming really took root six years ago, it got dismissed as a recession-era fad that would peak and disappear when the economy improved. But if anything, it's only gotten more prevalent, fueled in part by the
locavore movement
pushing people to consume closer to their food sources.
Not everybody takes up chickens with the same objective: Some like the eggs, others the free-range meat. Some treat their birds as pets (chickens can live eight years or more, depending on the breed). Such varied use makes it tougher for cities when it comes to formulating rules and regulations around noise issues, sanitation, and in some areas, abandonment, since most city animal shelters aren't equipped to handle poultry.
In my hometown of Los Angeles, chickens must be kept at least 20 feet from the owner's residence and 35 feet from neighbors' residences (many cities that allow chickens, bees, and other agricultural beasts have similar setbacks). Roosters in LA must be kept at least 100 feet away from a residence -- that's in striking contrast to cities like New York; Seattle; New Orleans; and Mesa, Ariz., where roosters are banned entirely (they don't just crow in the morning). Washington, DC, prohibits both hens and roosters; so would-be chicken farmers must decamp to Virginia or Maryland to get their coop on.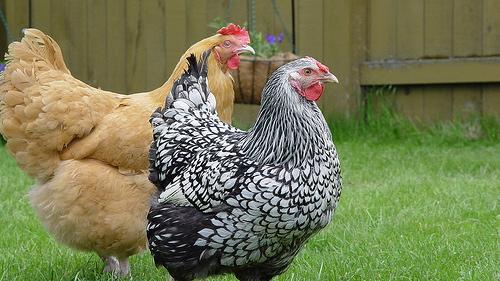 The breeds have cool, romantic names, like Ameraucanas (blue egg layer), Australorp, Barnevelder (reddish-brown egg layer), Barred Rock, Jersey Giant, Leghorn, Plymouth Rock, Rhode Island Red (brown egg layer), and Wyandotte, to name a few. Check out this thorough comparative chart of more than 60 breeds' characteristics.
But don't get too carried away. Most cities limit the number of chickens per residence -- usually no more than six. The limit is said to be based on the average household size and the number of eggs expected to satisfy a family's needs, according to Rob Ludlow, who runs the excellent compendium site BackYardChickens.com, and also co-authored Raising Chickens For Dummies and Building Chicken Coops For Dummies. Local regulators also take into consideration the five to eight square feet each bird requires with the size of an average suburban backyard, Ludlow told me in an email.
Urban chicken farming costs fall somewhere between what you'd spend on a dog and a horse. Here are some average costs, provided by Ludlow:
Chicks: $3 to $5 each
Adult hens $10 to $30 each
Feed, treats, water: $3 to $4 per month per bird
Feeder, waterer, brooder, permits: $60 to $80
Other ongoing supplies (shavings, egg cartons, etc.): $10 per month
Coop: Average cost is about $500 and can be had for less (and much more!)
It all sounds great, right? All-you-can-eat eggs, a fertilized lawn, insect eradication, not to mention that smug sense of doing good that used to be reserved for Prius drivers. The bad news is apparently there is time and effort involved in this urban chicken thing. The New York Times was already reporting more than three years ago about animal shelters in northern California getting inundated with unwanted birds, especially roosters. NBC stirred the pot again last summer with reports of clueless hipsters finding out the hard way that urban chicken farming is too much work, or their birds stop laying eggs, and thus, get dumped at shelters. Some are municipal shelters, others are privately funded and operated.
"People getting into raising chickens need to have a game plan in advance of what they will do with 'spent layers,' " Ludlow told me, referring to hens past their egg prime. "Their options are to keep them as pets, find other homes (hard to do), make them available as feed, or cull them."
Cities should factor this part into any new rules or amendments they make to local regulations: For example, have poultry farmers commit in writing, in advance, to a plan for their "spent layers." Cities should also insist on training and education as part of any permits or licenses that get issued. After all, like any garden-variety consumer, an informed urban chicken farmer is a smarter one.
— Terry Sweeney, Chief Jarhead, Paragon Jams
Related posts: