A great neighborhood needs a great street as its backbone -- that's the premise of Los Angeles Mayor Eric Garcetti's recently unveiled
Great Streets
initiative.
The government-driven Great Streets initiative seeks to harness business to benefit the city's 3.8 million residents. Great streets should offer good restaurants, interesting retail, as well as "places to downward dog," according to the LA mayor and yoga enthusiast.
Garcetti's calling on nine city departments to work together and coordinate better with the LA Department of Water and Power as well as the Metropolitan Transportation Authority, both of which are overseen by Los Angeles County, a separate governmental entity from the city. "No more Bureau of Street Services paving a street on Monday, DWP digging it up on Tuesday," Garcetti said.
The mayor wants to see streets being planned with these qualities in mind: walkability, transit, and their ability to serve as community hubs. That's a significant shift from past planning and design practices in the city. "Design matters," Garcetti told a recent gathering of urban planners. "Our greatest streets should be a reflection of this, [since] LA is the most creative spot on the face of the planet."
Creative and, like most big cities these days, cash-strapped. Exactly who's going to pay for these great streets is the glaring omission in Garcetti's plan. No one's talking about raising taxes or floating a bond initiative in the next city election. So where's the money going to come from?
Here's a shortlist of eight LA fat cats whose business, philanthropic, and/or personal interests are directly tied to the City of Fallen Angels and have personal fortunes to help foster Mayor Garcetti's grand plan. "Wait," you might be thinking. "Don't these alleged 'fat cats' already pay significant taxes and other fees in the form of permits, licenses, and service charges?"
Yes. They also enjoy tremendous tax breaks for much of their real estate development and make liberal use of charitable foundations, which not only offer them terrific PR as great humanitarians, but also provide enormous tax breaks that save them millions annually. In alphabetical order, here's who Garcetti needs to hit up to get the Great Streets initiative really rolling.
1. Philip Anschutz: While this billionaire's official residence is listed as Denver, few have benefited from the explosion in downtown LA's real estate market as much as Anschutz has -- in fact, he drove the boom. Anschutz Entertainment Group owns Staples Center, the city's premier sporting and entertainment venue (sorry, Rose Bowl). AEG's LA Live complex bustles with activity, but the real money maker is the parking lot, which can cost you more than dinner and the concert at the Nokia Theater combined.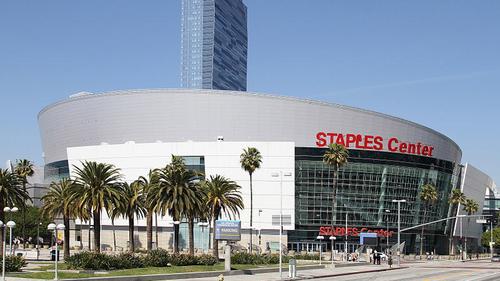 2. Eli Broad: The real estate, insurance, and tech billionaire is already busy overseeing construction of an eponymous museum in downtown LA, scheduled to open in late 2014. The Broad will house his modern art collection, and will serve as an interesting modernist architectural bookend to the Disney Hall next door. But the streets around the Broad? Yawn. Write the check, Mr. B. Write several.
3. Rick Caruso: How many billionaire developers can one city tolerate? Caruso made his money locally with mall (re-)development in Hollywood with The Grove, and in nearby Glendale with Americana At Brand. As a native Angeleno, and one with occasional political aspirations, Great Streets is a great chance to give back and see what neighborhood development looks like.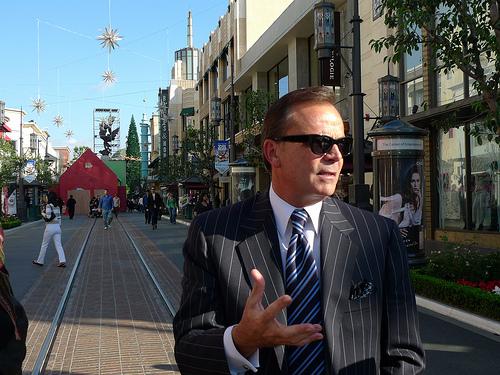 4. Anybody in the Dreamworks SKG triumvirate: Yes, that Spielberg, and his partners Jeffrey Katzenberg and David Geffen, all worth more than $1 billion, and all of whom make LA home and have profited handsomely from its movie and entertainment industries. Hey guys… how about matching each other's contributions to turn Garcetti's initiative into a 3D, star-studded blockbuster? It's your own backyard, after all.
5. Donald Sterling: Another real-estate billionaire, Sterling specializes in southern California apartments and luxury condos. And hideous print advertising. He also owns the other NBA franchise in town, the Los Angeles Clippers. Funding Great Streets would be something new to brag about in his clunky ads showcasing condo towers and headshot-riddled charity events.
6. Earvin "Magic" Johnson Jr: Retired from the Lakers since 1991, the highly entrepreneurial Johnson now owns several movie theatres and a portion of the Los Angeles Dodgers baseball team. He's also used his fortune to invest in poor, under-developed areas of Los Angeles through a variety of business ventures. Yes, Magic's done a lot to foster Great Streets already in LA; there are always more places to apply the Magic touch.
7. Jin Sook and Do Won Chang: If you're a teenage girl, if you're a parent to one, or even just a friend, then you know the Forever 21 clothing store chain, which was founded in LA by this Korean-American husband-and-wife team. Almost 30 years later, their fashionable money could improve the streets and neighborhoods that are far removed from the trendiest malls and retail corridors.
8. Candy Spelling: Widow of mega-producer Aaron Spelling and tormentor of daughter Tori, mother Spelling just ensconced herself in a two-story penthouse that required the high-rise to be retrofitted to accommodate a pool and helipad she designed. Her previous 55-room residence included a gift-wrapping room. Since there's not a tax on conspicuous consumption, pony up and build some Great Streets, lady. Consider it a nice, giftwrapped offering to the city you look down on.
Related posts:
— Terry Sweeney, Chief Jarhead, Paragon Jams