Why weren't Brazilians happy with the FIFA World Cup, even before the 7-1 loss to Germany?
Brazil is, after all, hosting the world. In its famous stadiums, at its legendary beaches, on the streets, and in its subways and buses -- especially in its subways and buses -- you can find the world. From star soccer-players and determined fans who are camped out there for the duration, to others (like yours truly) who were lucky enough to watch a couple of games and drink a lot of caipirinhas, Brazil has embraced every visitor with open arms.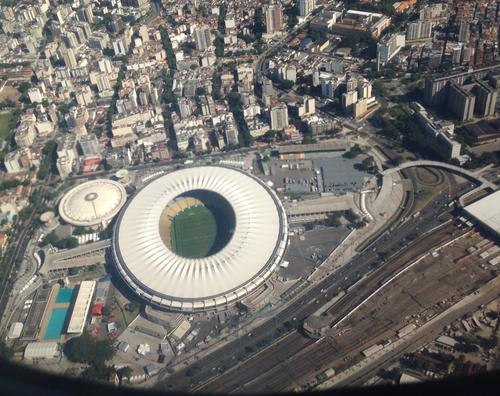 The country has invested large amounts of money in those stadiums, but that has not been the case for its transportation infrastructure. This is a reversal of a time-honored bargain between citizens and governments of countries hosting mega-sports events: Joe and Jane Average pay a fat bill, usually through increased tariffs and taxes, and go through considerable inconvenience related to the hosting the event. In return, they get a new subway line or a new airport or a new bridge over the river and so forth.
That's how it was in Seoul, London, South Africa, and Beijing. (Well, in the last instance, it is a little hard to parse, because urban China is in the midst of such massive infrastructure construction in any case.) And that is how it was supposed to be in Brazil.
But it is not how things turned out in Brazil. The country barely scraped through with some airport modernization and expansion for the dozen-odd cities hosting games. Little or nothing was incrementally built by way of transportation infrastructure that the ordinary citizen could continue to use.
A grand scheme to build a bullet train line between Sao Paolo and Rio De Janeiro, as good a candidate route as any in the world, has not gone much further than planning stages. Instead, a very large fraction of the money has been spent in constructing or substantially renovating stadiums. Many of these are in cities whose local sports franchises are unlikely ever to fill them. It is little wonder, then, that there has been so much animus in the general public about hosting the championships of a sport that doubles as a religion.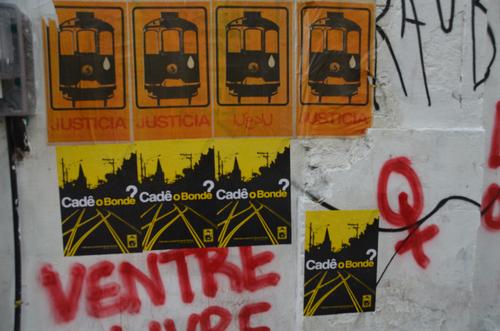 One city where the investments in stadium building and transportation stand in stark contrast is Rio De Janeiro. The famous Maracanã Stadium seats around 78,000 people -- reduced at FIFA's behest from the record capacity of 200,000.
By most accounts, FIFA, the World Cup organizer, is nondemocratic, autocratic, and corrupt. John Oliver offers a hilarious introduction to FIFA (warning: objectionable language).
The dramatic reduction is a result of replacing benches with numbered seating and inserting corporate boxes. Both features, not surprisingly, manage to put the seats outside the reach of most locals. In following FIFA's bidding faithfully in this instance, the Brazilians spent almost $550 million.
Yet, just a short distance away, the beloved and iconic Bonde street car -- which had been constantly running since 1877, providing affordable transportation to residents of the mostly middle- and lower-middle-class hillside neighborhood of Santa Teresa -- lies shut. It was taken off the rails after a 2011 accident, with a promise of reinstatement with new tramcars by this year. But a lack of focus, funds, or both means that it still lies abandoned.
The Brazilian government, at least through this week's semifinals, has not kept up its end of the grand bargain with its people. Transportation investments that will outlast the games and provide lasting value to ordinary citizens have not come through. We can only hope that, by the time the 2016 Olympics come around, this important gap will have been filled.
--Projjal K. Dutta, New York's Metropolitan Transportation Authority's Director of Sustainability Initiatives. (The views reflected in this blog are his personal views and do not reflect those of the MTA. Find him on Twitter: @projjal.)
Related posts: