Are "tech buses" from companies like Google, Apple, and Yahoo friends or foes of the cities where they operate?
There has been a lot in the news lately about tech buses that ferry employees from their homes in California cities like San Francisco, Oakland, and Berkeley to suburban tech campuses, mainly in the South Bay. The companies argue that these collective transportation systems keep cars off roads and highways. Detractors see them as a private usurpation of public space. In other words, as if raising the rents in formerly affordable districts was not enough, the tech companies are now taking the streets away, too.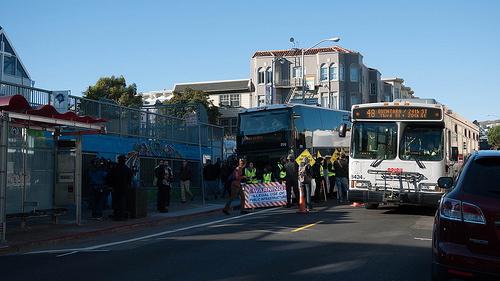 Let's backtrack and look at the silver lining here first: The demand for this service, in itself, is good news. Members of the current generation of in-demand workers wants to live in a city like San Francisco. They prefer an urban lifestyle to a suburban one. They want to be able to walk to grocery stores, restaurants, theaters, etc. They prefer traveling to work using collective transportation, rather than driving -- perhaps, in part, because they can be productive on the way. This is all good news. In fact itís even better news that these workers are young and will hopefully nurture habits that they are now forming for a long time to come.
So what's the bad news? The dark cloud rolls in from the companies for which these people work. With very few honorable exceptions like Tony Hsieh, the CEO of Zappos, who recently moved his company headquarters from suburban Henderson to downtown Las Vegas, tech companies seem not to have gotten the memo that suburbs are old and bad news. Unlike Hsieh, the leaders of the tech world have chosen to invest vast sums of money in campuses far away from restaurants, grocery stores, and theaters. More important, these campuses are also far away from viable public-transportation. This could be deliberate. Perhaps these companies want their workers focused only on work while on campus. They even assume takeover of their employees' recreational time. Tech companies provide amenities like ping-pong tables and food, not because they are enlightened or have a stake in the perpetuation of ping-pong, but because they donít want employees going very far away from work, even when they are not working.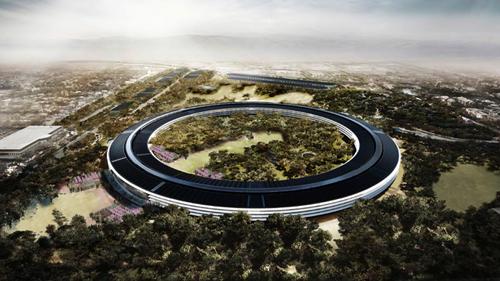 While the Infinite Loop campus of Apple (and its successor Round Campus) can provide food and recreation of myriad variety, with cafes for thousands and work spaces for tens of thousands, it can never compete with the Infinite Corridor in the MIT Campus, which connects Massachusetts Avenue to the heart of the school. That corridor is a part of the community. The students there are no less driven and do not spend any fewer hours at problem solving than the workers at Apple, but their location allows them simply to walk across the street and enjoy recreational activities. They can be a part of the urban experience, a part of the community where MIT is located.
Being a part of the community is crucial. The darkest thing about the tech buses is that they have turned their backs on communities. They have chosen to construct their own bubbles, their own echo chambers.
In an ideal scenario, these Yahoos and Don't be evil entities would locate themselves in existing urban communities. Ideally, in blighted ones. If that weren't feasible due to land costs, they would still ideally locate in suburbia close to mass transit lines. Perhaps they might pay for small extensions or new stations so that their employees could take a regional bus or commuter railroad to work. In other words, employees could ride alongside others in the business, and others not in the business, and become full-fledged members of the communities that they have come to live in from the far corners of the world.
ó Projjal K. Dutta, New York's Metropolitan Transportation Authority's Director of Sustainability Initiatives. (The views reflected in this blog are his personal views and do not reflect those of the MTA. Find him on Twitter: @projjal.)
Related posts: