Railroads, especially long-distance ones, seem unlikely candidates for furthering the US urban agenda. But after a century of rusting, these iron horses could reshape the American cityscape again.
Urban areas in California are heralding the dawn of a new rail age in America. Success or failure here will have an impact for the state, the country, and possibly the world. The stakes are high. If plans come to fruition, there will be a large-scale movement away from the personal automobile and toward shared and nonmotorized modes of transportation. That will also result in a move away from sprawl and toward livable communities, but -- and, like many butts, this is a big one -- only if things go according to plan.
High-speed rail was a signature Obama transportation policy during his first term, but many of the 13 projects that were signed up to receive funding have fallen by the wayside. In some cases, that was due to partisan animus; several Republican governors, including Florida's Rick Scott, refused and returned federal funds. In some cases, there was local support in spirit, but it did not translate into the local dollars needed to match the federal ones. In yet other cases, the analysis and the modeling were disappointing. Given ingrained auto dependencies, the projected ridership did not justify the projected expense.
However (and despite Elon Musk's claims about Hyperloop's superiority), the good stars lined up for the California High Speed Rail (CHSR). California's federal grant was the largest, and the initiative enjoyed bipartisan support; former Gov. Arnold Schwarzenegger and his successor, Gov. Jerry Brown, both are champions. Regardless of some concerns about the design and alignment and complaints from the NIMBY crowd, this project continues apace.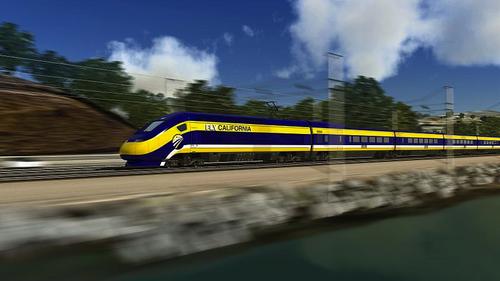 Other than its obvious benefits of providing a rail link between the southern and northern parts of the state, it is projected to generate a lot of co-benefits, like providing access to the Central Valley, relieving congestion within metropolitan areas (intra-LA commuting, for example), reducing commercial shuttle air traffic between LA and SFO, opening up gates and runways for longer-haul flights, etc.
Bay Area Rapid Transit is in the midst of a large procurement process for new train sets, which it is calling the Fleet of the Future. Like the CHSR, this venture has its controversies. One major complaint is that the companies bidding for the work are all from outside the Bay Area. (Actually, they are from outside the US -- the winning bid is from a consortium of Alstom of France, Bombardier of Canada, and Hyundai-Rotem of Korea.) But do protestors think anything before buying power tools from Home Depot, shelving systems from Ikea, or virtually anything from Walmart that is made outside the US? Rail technology has moved ahead in foreign countries, and the only way to catch up will be to import the latest.
SF Muni, which operates the famous cable cars in San Francisco and the extensive bus and streetcar system within the city limits, is also in the midst of a capital expansion program. So is LA Metro, the organization bringing mass transit to Los Angeles. These expansions include new lines, tunnels, and stations to make the network more efficient, as well as procurement of rolling stock. Even smaller jurisdictions like San Diego are revitalizing their trolley lines, creating an unprecedented rail renaissance in California.
It won't be a completely happy story -- there will be political obstruction, and genuine mistakes will be made. Moreover, rail-based initiatives take a long time to come to fruition. One must only see the black-and-white pictures of farmland along some of the original NYC subway lines to figure out that density follows transit, and not the other way around. But hopefully, the processes that have been set into motion by the Obama White House and the California State House will usher in a new dawn for railroads in America.
Related posts:
— Projjal K. Dutta, New York's Metropolitan Transportation Authority's Director of Sustainability Initiatives. (The views reflected in this blog are his personal ones and do not reflect those of the MTA. Find him on Twitter: @projjal.)