Utopic visions have often influenced the way in which we think about the future.
Ever since Plato's Republic (c. 380 B.C.) and Thomas More's 1516 work Utopia (itself a play on words meaning either "good place" or "no place"), writers and filmmakers have strived to create compelling visions of what the future might look like. The city has been at the heart of these visions for the future, whether portrayed in a utopic or dystopic light. In the same way, we can trace utopian thinking through the urban design principles of intellectuals such as Le Corbusier, the famed pioneer of modern architecture, and Ebenezer Howard, whose utopic vision for cities had people and nature living in harmony.
But now more than ever, cities need to envision and strive for a more sustainable future. Such visions help people make sense of the future; they help us to determine what sort of future we want; they promote discussion and debate; and they allow us to see how we can mobilize, deploy, and manage resources to achieve a desired future.
Many cities have already developed compelling visions for the future. Vancouver, for example, has plans to be the greenest city in the world by 2020. Bristol has developed a city vision, "High on Hope," which aspires to eradicate poverty and where educational underachievement is wiped out. And in London, Gensler has recently set out its 2050 vision for the City of London, based on positioning itself as the capital of a new global free-trade zone that extends from the US to China.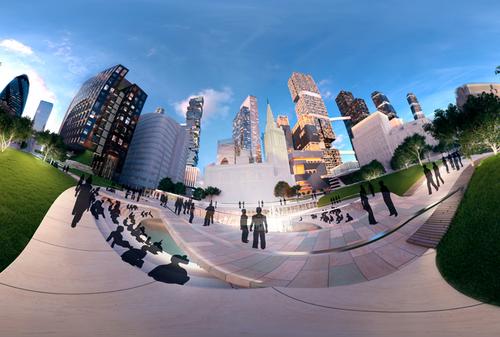 Every city is different of course, and there's no single visionary blueprint. But recent research for RICS has shown how four simple building blocks can create a strategic approach to planning for a low-carbon future in cities. Looking at the UK and internationally, the cities that are succeeding with their low carbon plans are those that 1. Set ambitious targets; 2. Place them in an integrated low carbon and climate change framework; 3. Have innovative financing in place; and 4. Use partnerships creatively.
So, for example, since the 1990s, Copenhagen has reduced its carbon emissions by 20 percent. In 2009, the City Council unanimously agreed on the Copenhagen Climate Plan, which will lead the city to further 20 percent carbon reduction by 2015 and carbon neutrality by 2025. In 2009, the Siemens Green index appointed Copenhagen as "the greenest major city in Europe." Part of the secret for Copenhagen has been its use of a "mixed market" approach to develop its district heating network, which supplies 98 percent of the city's needs. The system is combined heat and power (CHP), but in contrast to the UK, dumping heat is forbidden and all of it has to be used. Power stations, which generate only electricity, are not allowed and transmission companies have to buy heat from the power stations. The Danish government is responsible for overall energy policy, legislation, tax, and subsidies, and the local municipalities are responsible for heat planning and project implementation.
Copenhagen serves as a great model for global cities, which will ultimately need to create their own visions that stand the test of time and are resilient and adaptable. Recent research has shown how, in an urban retrofit context, we can imagine a "compact city" or a site of intensive and efficient urban living; or a "smart city" or hub within a highly networked, competitive society; or a "self-reliant" green city, where the city lives in harmony with nature, with each of these visions having different implications for people, technology, and governance structures.
The challenges for futuristic vision, as Dorothy realized in her journey with her friends to the Emerald City in the Wizard of Oz, lie in not only finding the right road to our destinations, but in being flexible enough to cope with uncertainty and danger along the way and upon arrival.
Related posts:
— Timothy Dixon, Chair, Sustainable Futures in the Built Environment, University of Reading