Managing growing power demands of burgeoning city populations in India while reducing dependence on coal-based thermal power presents a significant challenge. In Gujarat, a few experiments are underway to address this situation.
The Charanka Solar Park: Based on data provided by 11 Solar Radiation Assessment Stations installed and functional in different parts of Gujarat, the state has the potential to harness over 10,000 megawatts (MW) of solar power, setting aside just 0.1 percent of its land mass for this purpose.
The Solar Park in the village of Charanka in the Patan District in Northern Gujarat has been established over an area of around 2,000 hectares (or 4,942 acres) that provides integrated infrastructural facilities in terms of power evacuation, land, water, roads, etc. Located in this single cluster are 214 megawatts of solar photovoltaic (PV) generation projects. Over the first few months, the average generation of electricity from these solar power plants averaged 4,500 to 5,000 kilowatt hours (kWh) per day, which is close to what was estimated.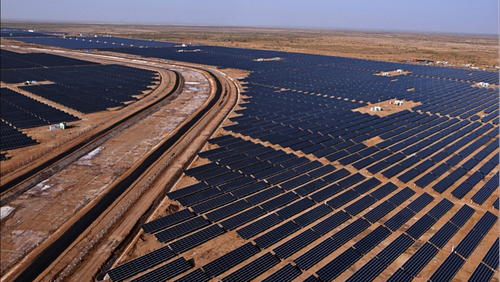 Canal solar power: Located on the Narmada Canal, this is another innovative project, which reduces the need for huge tracts of land to set up solar power plants. The 1MW project has been implemented by two state utilities, in the water and energy sectors, with financial assistance from the National Bank for Rural Development.
This project was developed along 750 meters of the canal, generating solar power through panels mounted over water. Electricity is then being directly fed into the local grid utilized by nearby towns and villages, thereby minimizing transmission and distribution losses.
The engineering, procurement, and construction (EPC) contract for this was granted to Sun Edison India Private Limited. (The inverters and compact sub-station suppliers are Power One, Italy and ABB Limited, respectively.)
Initial studies have indicated that these solar panels would also help reduce water evaporation (almost 9 million liters per year) -- a critical benefit in India, which is plagued with water shortages and unsafe drinking water. Utilizing just 10 percent of the existing canal network of 19,000 kilometers can facilitate the installation of 2,200MW of solar power and can save around 4,500 hectares (or 11,119 acres) of land.
But the cost of the project (around $3.22 million, at the current exchange rate) is higher than traditional solar PV plants on land. This is mainly due to higher structural costs for mounting the panels. An extensive study for long-term sustainability must be undertaken before this project is widely replicated.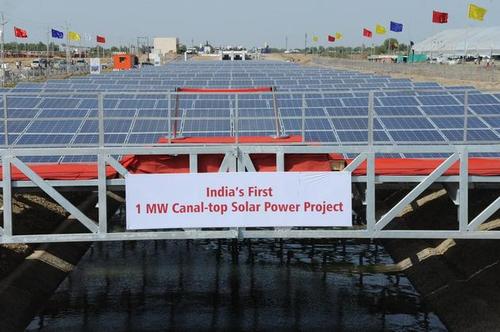 The "solar city" of Gandhinagar: Through a policy to generate electricity using solar panels on rooftops, Chief Minister of Gujarat, Narendra Modi, has said that Gujarat's capital city of Gandhinagar will become its first "solar city."
The Climate Change Department of the State Government (the first of its kind in India) has facilitated multiple installations of Solar Roof Top Systems of assorted ratings from 1kWh to 150kWh at more than 150 government locations, aggregating to a capacity of 1.47MW.
These systems cover an area of two hectares (or four acres) of household rooftops, or close to 2 percent of the total roof space in the city. The electricity generated is used by the buildings and contributes to approximately 1 percent of the city's total energy consumption.
This initiative has been further scaled up by the development of India's first Public Private Partnership (PPP) model for installing 5MW rooftop systems in the capital. More than three dozen companies participated in a tough tariff-based competitive bidding process, and SunEdison and Azure Power were awarded the development of 2.5MW each. Private roof owners offering their rooftops will get green incentives of three rupees (Rs. 3) per kWh from the developer who has to set up the rooftop system at his cost, and gets paid a feed in tariff of Rs. 11.50, per kWh.
Getting home owners to grant permission for use of their roooftops may be a tough challenge considering the escalating real estate costs. But a bold beginning has been made. The results of this experiment will have important implications for many growing cities in India.
Related posts:
— Dr. Rajiv Kumar Gupta, Senior IAS Officer