City buildings today are constructed haphazardly, without much forethought about what goes where and how each affects the others.
But what if a city block could be built in a few weeks on site, using local materials like dirt, clay, or sand? What if each building was custom designed for its individual purpose, including layout, materials, wall thicknesses, and window placement? If some architects have their way, this will soon be possible using 3D printing design and manufacturing.
Also called additive manufacturing (AM), 3D printing methods automatically lay down thin layers of material based on 3D CAD drawings. They create models or engineering prototypes in hours, along with low volumes of high-quality, precise, custom production parts for sports cars and commercial aircraft. Compared with traditional subtractive manufacturing, construction is faster and wastes little material, so it's potentially cheaper.
Costs are coming down on materials as the volume of use increases, fueled partly by new content creation tools and services. Build volumes are expanding. Materials sets include metals, carbon fiber composites, and engineering plastics, as well as sand, glass, and cement for industrial applications. AM is even the focus of a federal manufacturing initiative.
Architects are investigating and using variations on these technologies. The biggest dimensions can be made by the second-generation D-Shape printer, invented by the Italian civil engineer Enrico Dini. It fabricates structures with potential heights of up to 12m (39.37 feet).
The D-Shape uses naturally occurring granular substances (sand, gravel, clay, glass, or even quarry waste) that require minimal processing. But unlike concrete and cement, the D-Shape doesn't generate much carbon. The liquid binder bonds chemically with the granular material, producing a hard material that achieves a high tensile strength in hours. The structure is printed using layers of sand and binder in one session, starting at the foundation and working up, including internal partition walls, stairs, and cavities for wiring, cabling, and piping.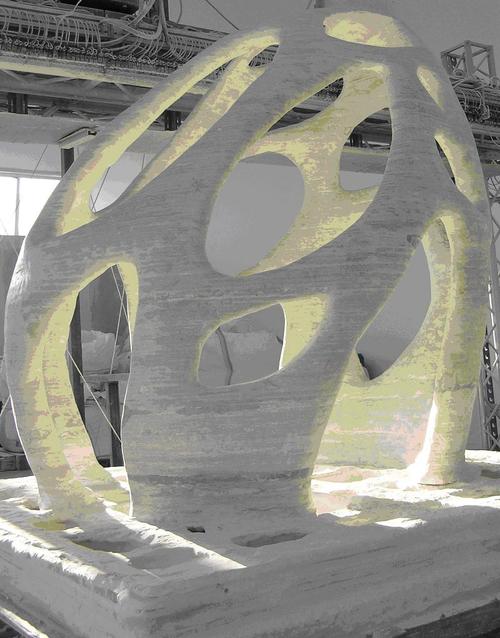 A similar idea is Contour Crafting, invented by Behrokh Khoshnevis, an engineering professor at the University of Southern California. Materials include ceramics, adobe, plaster, concrete, and local soils. The process requires about 20 hours to make a 2,500-square-foot building. Applications include emergency and low-cost housing and larger commercial structures. With funding from NASA's Innovative Advanced Concepts program, Khoshnevis and some colleagues are developing his method to make roads, landing pads, and possibly structures on the moon from lunar soil.
Others initiatives include Loughborough University's Freeform Construction project in the UK, with a build volume of 2m (6.5 feet) x 2m x 5m (16.4 feet) in concrete.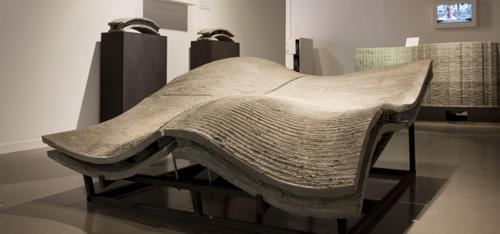 Similar in principle (but executed differently) are houses in Denmark and Catalonia that combine 3D digital design with computer-numerical control machines for computer-milling plywood. The Danish architectural firm Eentileen built Villa Asserbo, a 1,345-square-foot house, in four weeks with two people and no heavy machinery. The firm aims to maximize efficiency, minimize environmental impact, and reduce construction errors in mass customized housing. Designs can be adapted to local climates and conditions. The wood comes from regional certified sustainable forests, and the process uses no concrete and little structural steel. (You can see a video here.)
The Endesa Pavilion, a project of Spain's Institute of Advanced Architecture of Catalonia, is a 1,658-square-foot solar house milled in three weeks and built on site in two weeks using similar methods. But the Pavilion was designed -- in its structure, window placement, and solar module placement -- to take optimal advantage of solar heat and light at its precise location at different seasons. The result is 150 percent efficiency; it generates more than enough energy to power all its needs.
Though most of these AM techniques are in the development phases, some are already producing results. They range from the Contour Crafting and D-Shape methods, which could be used for relatively lower-cost dwellings and other buildings, to highly customized houses based on the Endesa Pavilion design, apparently aimed at more affluent individuals. With a couple of caveats, all these techniques could reduce costs and environmental impact and speed construction.
However, as these methods are developed, scaled up, and adapted to new materials, it will be a challenge to strike a balance between cost containment, environmental impact, and efficient manufacturing.
Related posts:
— Ann R. Thryft, Senior Technical Editor, Materials & Assembly, Design News