Journeys in large, modern cities are often complex and multimodal, impacted by traffic, overcrowding, mechanical failures, and other random events that turn any trip into a challenge.
On a typical day in London some 8,000 busses carry almost 6 million passengers to and fro, while deep below the city streets in the arteries of the underground system (which is now nearly 150 years old) a further 3 million people are in subterranean motion.
How to keep the customer updated, in control, and moving is a challenge that Transport for London (TfL) has responded to with a wealth of new services for planning and managing your journey. Take a look at any bus stop in central London, and you will see a schedule of arrivals posted on a bright red LED billboard. Guess what? When it says three minutes for the number 476 bus to arrive, it really will be there in three minutes. Likewise in the tube stations, there are signs indicating which train service is expected next and how long for the next three trains that follow.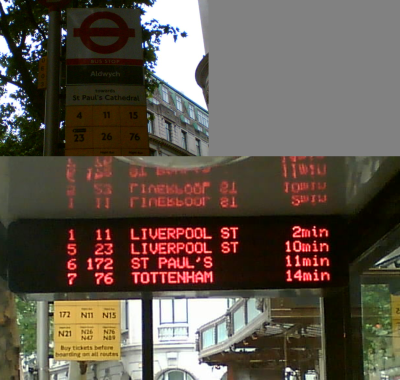 What's more, this same data is now available on mobile devices, laptops, and phones, creating a 360-degree transit experience that has proved a boon to time-pressed commuters.
Drawing together the data that underpins these apps and the TfL journey planner is the work of TfL's online group, headed up by Phil Young, who took some time out recently to describe to me how the infrastructure to support these services works and also highlight the next stages of the transit revolution:
Starting in 2009, we took a conscious decision to develop open data rather than our own proprietary applications, making data for different service types available for developers to create a range of innovative apps and then letting customers choose how they want to interact with our services.

For around 8 million people this means using our desktop or mobile sites, for many others they use apps in addition to, or instead of traditional Websites. The app market has created dozens of innovative apps for our customers and enabled us to focus on our core Web and mobile browser services. We now have over 4,000 app developers registered, producing hundreds of apps used by millions of customers.
How do these apps get the data they need to keep you on time? For the bus network the data is collected from a GPS-enabled system aboard each and every one of the 8,000 vehicles on the streets and then collated and "sanitized" before being made available. Likewise the data stream for the tube schedules comes out of the London Underground operational system in real-time, after which it is pumped into a cloud-based data warehouse and from there made available via mobile apps to customers.
Young summarized future plans for the services and outlined three phases driven by a guiding philosophy to make all data available where commercially, technically, and legally possible.
Phase one is the launch of a new TfL Website by mid-2013, consolidating data sources into a single API so that an integrated user experience exists across a number of services, including Journey Planner, fares, and live travel information. The site will be built using responsive design to enable seamless use across mobiles, tablets, and desktops, and information will be personalised based on customers' previous activity.
Later phases include the introduction of a single-sign-on facility, integration with TfL's new contactless ticketing solution, and improved online customer services.
Looking ahead, the possibilities for integration are endless -- airline flight schedules, taxi services, and perhaps eventually the ability to show end-to-end journey schedules that span countries. There are some great customer service opportunities ahead and technical challenges to deliver them.
Complementing the transit schedule data is the wealth of activity recorded by customers of the Oyster card, the passport for the system. TfL is also considering how Oyster card data could be used to improve the accuracy of journey planning.
In any modern city, the ability to provide this level of utility for mass transit customers is critical. London is in the top division here, but many major cities have initiatives of this sort already underway.
Related posts:
— Michael Joseph, IT & Security Consultant, London