I'm in my personal heaven: sitting in Via Garibaldi, one of my favourite streets anywhere, with the late autumn Venetian sunset sparkling on a glass of prosecco. Those of us who espouse people-centred places often draw on Venice and other Italian towns and cities as a model. Venice works well as the world's only (mostly) car-free city, with goods and people moving easily through the network of canals -- Grand or otherwise -- and its tangle of lanes and piazzas.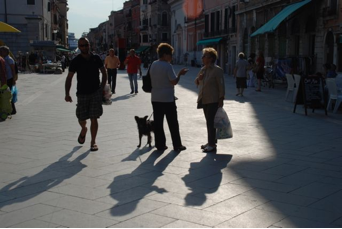 So it is ironic that the country famous for its inspirational civic spaces also invented the motorway, completing the first section of the autostrada from Milan to Varese in 1926. Italy's deep love affair with the motorcar has continued ever since.
I was reminded of this dichotomy this year, when I was holidaying in Lazio, kicking off with a few days in the frenetic Eternal City. Rome's piazzas and pedestrian spaces were pleasant punctuation marks amongst its fast-moving traffic, and they were far outnumbered by streets rammed with parked cars, leaving little space to manoeuvre.
As we moved on to the town of Frascati, via Tivoli, my tour was keen to experience the local countryside. Though we kept away from major roads, I hadn't banked on the urban sprawl of Rome, which stretched out in every direction. So the planned scenic route kicked in just a few short kilometres from the ascent to Tivoli -- which, in fact, provided a spectacular view over the Roman Campagna, confirming the extent of the capital's spread.
At a time when the UK is hotly debating how it manages growth, and more development pressure is being put on the rural fringes of our cities, the journey was a sharp reminder of what can happen when protection of the open space is relaxed or not put in place.
After leaving Tivoli, we arrived at Frascati on a balmy Saturday evening, nerves frayed by a fractious drive through Rome's heavy suburban traffic. The town's buzzing historic centre seemed to be both a playground and a race circuit. Its pavements were thronged with people of all ages out for their passeggiata (stroll) or watching various street performances, while cars zipped around a one-way system -- turning wide boulevards into fast-moving arteries.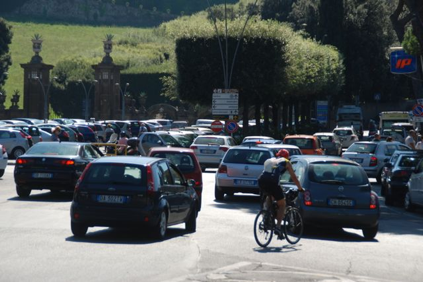 Finally on foot, we entered the centro storico in search of food. We were met by a hum of voices and laughter. Everywhere I looked, people were eating, drinking, chatting, and tucked around trestle tables, their paper plates piled with food. On this late summer evening, the whole town seemed to be out having a picnic.
"What is everyone celebrating?" I asked my host.
"Celebrating? This is just a typical Friday and Saturday night."
In a reversal of BYOB (bring your own booze), the local wine merchants provide the tables for people to gather with family and friends to eat their own food and purchase the region's eponymous wine. After such a dispiriting drive and the pervading sense of car dominance, this was balm to the soul.
I returned the next day to find many of the same places filled with parked cars. But at least for two evenings a week, the cars are banished. It was heartening to know there was such an active intervention, marrying commerce and civility, to make way for townsfolk to congregate beyond the traditional, historic piazzas.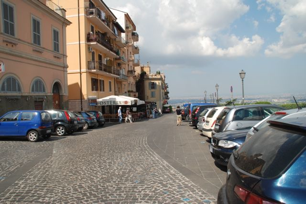 Meanwhile, back in the UK, we have come a long way towards more people-centred places. More spaces have been carved out for people to sit, and exemplars, such as Exhibition Road, point the way on planning road space.
Importantly, though, it is the small details, such as dropped curbs at street corners, freedom from parked cars, and pedestrian priority at traffic lights, that signify the biggest difference. It is easy to overlook small, incremental changes, which aggregate to make walking in built-up areas so much easier -- and safer -- for all.
Undoubtedly, our love affair with the best of Italy's magnificent civic spaces means they will remain an inspiration. But they should also act as a reminder that truly civilised places have to extend beyond the historic core, to embrace our everyday environments and movement.
Related posts:
— Patricia Brown, Director, Central