As someone who lives in Oxford but was born a Londoner, I don't understand the hatred directed at London from many of those living in other British cities.
There are good reasons I don't live in London today: high living costs, road congestion, and the fact that it's tough to run into friends in such a large city. Low-level irritation with a city the size of London is understandable. But one common contention coming from other British cities is that London sucks talent and economic activity from the rest of the UK; and that other UK cities would be much better off if London wasn't there.
Today, urban policy research group Centre for Cities has published its "Cities Outlook 2014" report about the relationship between London and other UK cities; and knocks down some of the misconceptions about the "harm" London does. Cities across the UK benefit from these relationships and no city can go it alone. This is a worthwhile lesson for small cities worried they are losing out to a larger rival.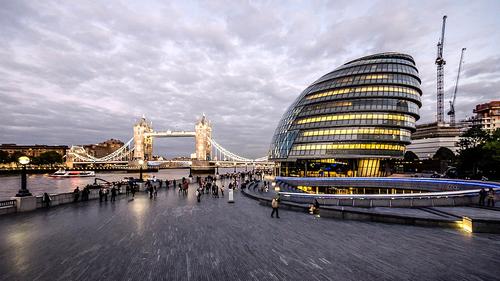 The report does not try to dispel the notion of our capital city's dominance. It is home to 19% of UK jobs, 21% of UK businesses, and 25% of UK economic output; but does this harm other cities? Here are three common arguments:
London sucks up all the talent: In general, the data backs up this argument. One third of people in the UK in their 20s who decided to relocate between 2009 and 2012 moved to London; and more people in their 20s move into London than those who move out. This makes sense given there are more graduate jobs in London than other UK cities.

But things change as people hit their 30s and move away for a better quality of life, which is often linked with having children. In all age groups over the age of 30, more people move out of London than move into it.

Even so, 60% of those leaving London stay in the city's commuter belt, which shows how the city retains its attraction even to those escaping.

London's success is a threat to other cities: London sucks up talent from the rest of the country and some commentators argue London's growth should be limited to help rebalance the economy. Centre for Cities says this would do more harm than good.

London-headquartered businesses account for a significant proportion of jobs in other British cities. For example, 22% of people working in the private sector in York are employed by London-headquartered businesses; and other cities would lose out if growth in London were somehow curtailed.

The rest of the country is a drain on London: Since 2010, 79% of private sector job growth in Britain has happened in London; and London contributes more to the Treasury in tax than is spent on its public services. Pro-London commentators say this shows the rest of the country is holding London back.

This ignores a couple of facts. The first is that the city depends on the talented young people trained in other parts of the country; and the second is that the people who work in London don't necessarily live there or use public services there. London can only do what it does with support from everywhere else.

It also relies on technological innovation happening in the rest of the country. Cambridge, Swindon, and Edinburgh are listed as the three UK cities with the most patents per 100,000 residents, and London comes only 23rd on this list.
The lesson here is that even a large city like London cannot succeed alone; and if a country is going to be successful then it needs cities to both compete and cooperate.
We can still demand changes. The government could give London more powers to raise taxes and increase investment in infrastructure, including homes, transport, and tech. It could also give big cities like Birmingham and Manchester more powers to help them economically, such as an elected mayor, power over transport budgets so they can make improvements, and more strategic planning powers.
Policies like those would help our smaller cities. They'll do much more than a vague notion of getting rid of London or pretending it doesn't exist.
Related posts:
—Rich Heap, Community Editor, UBM's Future Cities