Next week, Westminster City Council will
begin installing smart parking sensors across London's West End
to help cut congestion caused by drivers hunting for a space.
The sensors will detect which parking spaces are vacant, and this information will be combined with an app that shows drivers where the empty spaces are and can direct them towards one. The council says that drivers spend on average 15 minutes looking for a parking space in the West End. Serves them right for driving in a busy city centre.
The app runs on Apple and Android devices. Once the driver has parked their car, they can also use the app to pay for parking remotely. The system has been dubbed "Oyster card for cars" and it also reminds me of the London bike hire scheme, although clearly the big difference is that here you're paying during the times you aren't moving.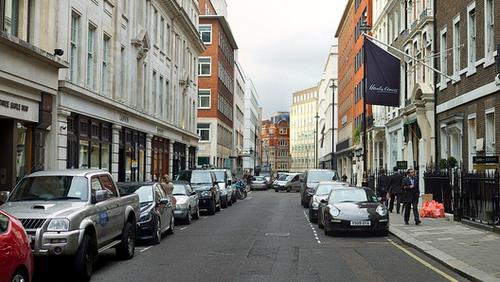 Westminster signed a three-year deal with parking technology company Smart Parking in November. The company will install 3,000 sensors at "paid-for" and disabled parking bays across the West End. If the trial proves successful then Westminster and London's other councils could extend the scheme across the city, with a further 7,000 sensors.
The deal follows a successful trial, where 189 sensors were installed in streets including Savile Row, Jermyn Street, and St John's Wood High Street. The SmartEye sensors are RFID-equipped and use infrared to detect when a vehicle is occupying the space.
I love this idea. Now, I know that parking apps get a bad rap on this site, not least from my editor Ms Ferraro who last March predicted imminent doom for cities if such apps become common: "In cities where driving is already treacherous, the idea that we're giving people more of a reason to look away from the road is, at best, discouraging."
I agree that road safety is a paramount concern for people whether they are driving in cities or rural areas, and I don't want to give people more ways to be distracted. The risks of pedestrians and cyclists getting injured must grow if drivers are distracted. But, in my view, these apps don't pose much of a risk as long as they're used responsibly.
I already use my phone while I'm driving. Okay, I need to qualify that statement before you get out the pitchforks and come to my house with the intention of burning it down. I already use my phone as a satnav while I'm driving. It's in a holster on my windscreen so I don't need to glance away from the road for longer than is absolutely necessary. I'm not constantly looking into my lap to use a satnav app while driving at 70mph.
Yes, sometimes I need to press a couple of buttons to change my destination, but I can do that quickly while I'm stuck in traffic or I can pull in somewhere. If it's not safe then I wait, and I'd use a smart parking app in exactly the same responsible way. In any case, I usually have someone else there who can press buttons and re-holster the phone.
I can see the apps would be risky if people don't have the phone securely attached and are constantly looking away from the road while they're driving. That's dangerous and should be punished. But the vast majority of drivers don't want to kill anyone and don't want to be killed; and so don't take stupid risks while they're behind the wheel. Most people would use a parking app in a way consistent with that "no killing" principle.
We can't just ban these apps on the basis that some people will use them stupidly. If you do that you also have to ban all satnavs, all driving-related apps, and stop people having mobile phones in cars altogether in case they're tempted to use them. You could also make a good argument to ban other distractions like car radios, children, and people with irritating laughs.
Most people who use these apps will use them responsibly. If this does lead to carnage on the streets of the West End then I'll let you know.
Related posts:
— Rich Heap, Community Editor, UBM's Future Cities