Rapid urbanisation will put more pressure on the world's energy resources over the coming decades, but don't fear. Energy giant Shell is here.
The Centre for Liveable Cities in Singapore and Shell have published a report called "New Lenses on Future Cities," about how cities can cope with growing demand for energy around the world. This looks at the pressure on global energy resources that will be caused by rapid urbanisation and population growth between now and 2050.
This study says most of the increased demand for energy will come from two types of cities. The first type is "developing mega-hubs" that currently have large populations, low-density living, and underdeveloped infrastructure, like in Chongqing in China. The second type is "underprivileged crowded cities" with large populations, high-density living, and low-quality infrastructure, such as Bangalore in India. These cities will grow and become more developed over the coming decades, and energy use will increase.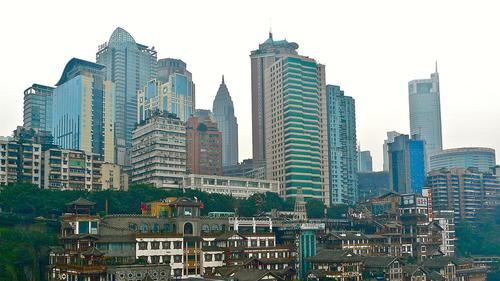 This means that decisions made about energy in these cities over the coming years will shape how resource efficient and liveable they are for decades. It is easier to do this when putting in place the infrastructure than it is retrofitting later.
The report sets out five conditions that make it easier for cities to respond to changes in the way they generate, distribute, and use energy:
Flexible Long-Term Planning: Cities need a clear vision of their long-term aims, such as reducing emissions or increasing the amount of energy from renewable sources. This sets the goal, but there also has to be flexibility to enable cities to make incremental policy changes to help them achieve it.

Investment During Bad Times:
Cities must continue investing in innovation hubs, education, and energy capacity during bad times if they are going to tackle their energy problems; and this includes investing in innovative technology.

For example, Germany has a well-developed renewable energy sector, and it achieved this with policies to encourage investment in growing sectors. The use of solar power technology in buildings picked up after a 1997 agreement between the Berlin Senate and the business community that stipulated 75 percent of new buildings needed to include a solar thermal strategy.

Collaboration: Politicians, businesses, and citizens must agree on problems facing their cities and then all do their bit to help resolve them. For example, the government should offer "green" incentives to businesses and citizens; people should be encouraged to support new low-energy infrastructure; and businesses should offer smart solutions to reduce energy demands from homes, vehicles, and other areas of the city infrastructure network.

Capacity To Implement: This requires collaboration, as discussed above. Cities should also make the most of quick and visible wins to increase the credibility of the vision, like Copenhagen is currently doing to achieve its aim of becoming carbon neutral by 2025. You can read more about that here.

Building Trust: Cities can attract businesses and new residents with consistent rules and regulations. Making data available about topics such as population, education, and transport can also increase people's faith in their politicians.
The report makes some suggestions about how cities could look to cut the amount of energy they use. For new cities, this would involve laying out the city to reduce urban sprawl that encourages people to drive rather than take public transport. It is easier for smaller cities to establish efficient public transport networks; and small cities are better placed to benefit from electric cars, which are more reliable for driving shorter distances.
Cities could look at setting up freight transport networks with big warehouses on the edges of cities, to cut the amount of inter-city trucks that clog up city centres; and using GPS technology to plan the drivers' delivery schedules efficiently could help reduce fuel waste.
The study also recommends that cities switch from coal- to gas-fired power stations to cut emissions and increase energy generated by low-carbon sources in the longer term.
Shell's interest in this area is that it is investing in cleantech firms through the Shell Technology Ventures fund that it set up last year, alongside its core interests in oil and gas. But whether you feel comfortable listening to its "green" lessons is, of course, up to you.
Related posts:
— Rich Heap, Community Editor, UBM's Future Cities