Londoners aren't short of shops or cafés, and yet they're the main options being considered to replace London Underground ticket offices. Why not something more socially useful?
Next month, the battle over the future of London Underground ticket offices is going to escalate. The Rail, Maritime & Transport Workers (RMT) Union confirmed on Friday that its members are going to hold two 48-hour strikes on the Underground in February, due to proposed changes by London mayor Boris Johnson and Transport for London (TfL).
Johnson and TfL revealed in November a plan to transform the Tube into a "21st century service." This involves operating a 24-hour service on parts of the network at weekends; rolling out WiFi in most below-ground stations this year; and closing all 268 ticket offices by the end of 2015 with the loss of 950 ticket staff jobs.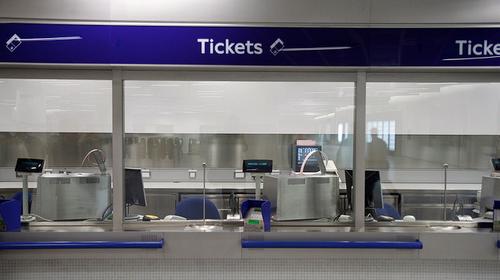 Bob Crow, RMT general secretary, has criticized the "cash-led cuts" and said closing the ticket offices is "unacceptable... when the Tube network is under growing pressure from customer demand" and needs more staff, not less. I have some sympathy with his view. I am concerned that replacing ticket office staff with tablet-wielding colleagues will affect the service they offer, particularly to tourists, the elderly, and disabled.
But I am also interested in the other proposals for the ticket offices that have surfaced since Johnson and TfL revealed their vision for a "21st century service" on the Tube.
Most of these are retail-focused. Only a few days after the plan was announced, it was revealed that online retail giant Amazon was in talks with TfL about converting the ticket offices into "drop-off" lockers for goods bought online. There are already such lockers in shopping centres and offices; and stations look a good way to grow that network.
Supermarkets are also looking at how to use these spaces. Marks & Spencer, Waitrose, and Asda are in talks about how they might use the ticket offices; and Asda has already started trialling a click and collect service outside six Tube stations. Graeme Craig, director of commercial development at TfL, told the Financial Times he is looking at ways to create a "supermarket aisle" in stations to serve busy commuters.
And Boris Johnson said on his LBC 97.3 radio phone-in show last month that TfL is also considering turning some of the ticket offices into coffee shops. These are all services that I would use, but I'd also like to see more non-retail uses in these discussions.
These small spaces could suit a network of small business centres that enable people to drop in for a short term and work without having to visit an overpriced coffee shop. The Tube is installing WiFi in all below-ground stations anyway, so this could help it get some value for that; and it could help workers become more productive out of the office.
They could suit health services. I'm guilty of avoiding my doctor, dentist, and optician because I'm too busy to take time off for a routine check-up; but I'd be more likely to do so if there were experts in locations that I'm passing through. This could help people to get or remain healthy; and help businesses by keeping their staff healthier for longer.
And what about public toilets? The British Toilet Association says 40% of public toilets in the UK have closed over the last decade. Opening new ones in some of these ticket offices could make cities friendlier for the elderly, and those of us with children who sometimes need to do an impromptu nappy change while we're out and about.
Retail should still feature in these discussions, but it isn't the only option. There are plenty of things Johnson can do if he wants to make London more people-friendly.
Related posts:
— Rich Heap, Community Editor, UBM's Future Cities