There are few better ways to cool off in summer than a spritz of refreshing water. But, this summer, protestors in London may get more water than they expected.
This week, Mayor Boris Johnson has written to home secretary Theresa May to get permission to consult the public about using water cannons in "extreme" situations of public disorder, like the riots that hit Britain in summer 2011. The decision is due next month and, if May agrees, this would free the way for the Metropolitan Police -- London's police force -- to use water cannons in London from this summer.
It looks like Johnson has already made his decision regardless of what people say in the consultation. Last summer, around 3,000 British police officers were trained in how to use water cannons, which suggests that our politicians have already decided. Johnson wants to buy three truck-mounted water cannons costing £30,000 each.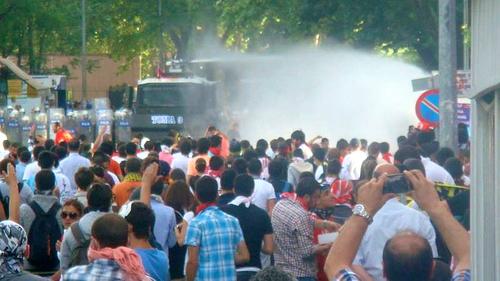 Johnson says the water cannons would only be used in "extreme" situations, but his political rivals and civil liberties campaigners are arguing that the police would also use them to stifle legitimate protests. If they have the technology then they'll use it.
London would not be alone in using truck-mounted water cannons for riot control. They were first introduced in Germany in the 1930s; were used to disperse protests in the US in the 1960s but have fallen out of favour; and have recently been used to quell unrest in countries including Turkey and Egypt. Police in Northern Ireland have also used them to control the civil unrest associated with the Troubles.
In some countries, water cannons using dyed water have been used to both disperse protestors and make it easier to identify them later. The most famous example was at an anti-apartheid protest in September 1989, since called the Purple Rain Protest. They have been used in recent years at protests in Uganda's capital Kampala in 2011 and Indian city Srinagar last year. They're used in other cities, so why not London?
If you look at it only on a cost basis then it could make sense. If it costs £90,000 to have three water cannons available in London that can stop rioters causing damage worth millions of pounds, then it seems sensible. Unfortunately, it isn't that simple.
Let's look at the London riots of 2011. Thousands of rioters caused trouble in areas including Brixton, Croydon, Lewisham, and Peckham in south London; Hackney and Walthamstow in north London; Barking and East Ham in east London; and Ealing in west London. There's no way that three water cannons can disperse rioters in all of these areas simultaneously, and this deal would only be the start of a wider rollout.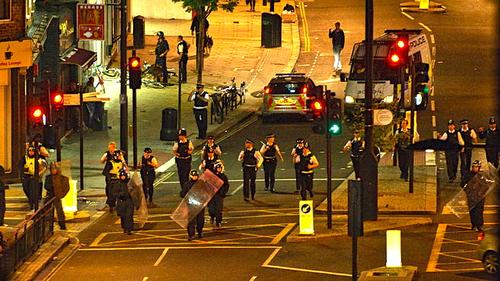 The use of water cannons is also unnecessary. The 2011 riots attracted the attention of the world's media partly because they were "extreme" -- to use Johnson's word -- and because they were rare. London doesn't have a problem with civil unrest, and I see no reason to invest in water cannons to manage "extreme" situations when the "extreme" events are so rare. Even then, public order was restored within a week.
This will be little comfort for people whose homes and businesses were damaged or destroyed. The total cost of compensation after the 2011 riots has been estimated at around £300 million, and it is unfortunate that more than 100 people are yet to be compensated. Water cannons could reduce the numbers of victims in future.
This is a fair argument, but must be balanced against what the use of water cannons means for civil liberties. It is all very well for Johnson to say that water cannons will only be used in "extreme" circumstances, but I can't shift the idea that there will be mission creep and that water cannons will be used to disperse peaceful protests. If this happens, water cannons could cause more riots rather than they solve.
And what then? Well, we'll have this same debate about rubber bullets.
Related posts:
— Rich Heap, Community Editor, UBM's Future Cities