If you've ever wanted to cycle up in the sky like Elliott in
E.T.
, then you may soon get the chance, with a little help from British architect Sir Norman Foster.
Last week, Foster presented a vision for the future of cycling in London. His firm Foster + Partners is working with Exterior Architecture and planning consultancy Space Syntax on a utopian vision for London cyclists called SkyCycle. This would create a network of elevated cycle routes over rail lines.
The idea is gaining attention now because of Fosterís involvement, but this is not the first I've heard of it. Exterior Architecture started getting media coverage for the idea in September 2012, when founder Sam Martin said he wanted the first SkyCycle lane operational this year. Here is an article by Future Cities sister title Building Design.
The numbers look impressive. The network would provide 137 miles of car-free cycle routes, with 200 entry and exit points; would accommodate 12,000 cyclists an hour; and would help them to reduce their journey times by 20 minutes. Very precise.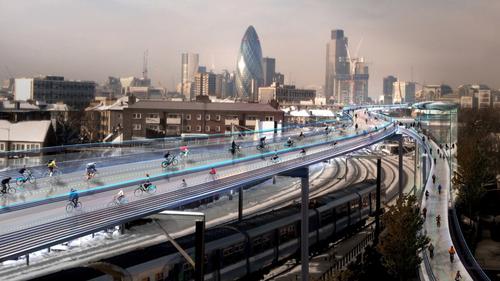 It could also give British firms the opportunity to engineer new platform technology that could then be exported to other cities around the world.
The partners have presented their idea to the Greater London Authority, Transport for London, Network Rail, and developers and contractors with expertise in the rail sector. Foster said SkyCycle would help car drivers and cyclists in London to coexist.
"The greatest barrier to segregating cars and cyclists [at street level] is the physical constraint of Londonís streets, where space is already at a premium. SkyCycle is a lateral approach to finding space in a congested city," he said. Sam Martin from Exterior Architecture has called it a "cycling utopia" with no buses, cars, or stress.
But I don't believe in utopias. I've written before about how London needs to find ways to keep cyclists safe and I support physically segregated bike lanes, but I don't see why we want them in the air. The computer-generated image of cyclists whizzing into London on a clear day looks attractive, but I can imagine SkyCycle would be very empty on a cold January day with high winds and downpours of cold rain.
I also have a problem with an assumption that seems inherent in this scheme, which is that we must find ways to accommodate more cyclists alongside existing numbers of cars. We should look to make cycling more attractive while getting people out of their private cars, with changes to the road network and improved public transport. Trying to fit in more cyclists while not reducing car use is the wrong approach.
And then there are all the money questions. Who would fund the development, and who would maintain it when it is built? Network Rail, Transport for London, or the Greater London Authority? How many users does it need to make that maintenance economically viable? What if that target isnít met? There are so many questions.
The best parallel is with the City of London Pedway Scheme, which was initiated by the City of London Corporation in the 1960s. The idea was to help speed up traffic flows in the City of London by developing elevated walkways for pedestrians. These people were promised good views and a break from the hassle of life at street level.
The scheme was eventually abandoned in the 1980s for a series of problems, some of which are discussed in this 2013 documentary, The Pedway: Elevated London:
The walkways were poorly used, as Michael Hebbert, professor of town planning at University College London, explains in the documentary:
Human beings are like water. They will always flow to the point of least resistance. All of the times when we navigate urban space we are calculating what is our optimal path, and that desire line very rarely involved climbing up stairs onto an inhospitable concrete deck and then climbing down at the far end.
If that was true for elevated walkways, then I don't see why it would be different for an elevated cycleway. The biggest obstacle for SkyCycle could be human nature.
Related posts:
— Rich Heap, Community Editor, UBM's Future Cities